Users reviews
(3)
Average rating: 4.67
Rate:

Bought it for a friend, it's beautiful and sturdy! Also, the details are very intricate and elegant! One of Restyle masterpieces :)
Rate:

The clip is huge and absolutely lovely, but it arrived a little bit broken (the clip had broken off the back of the moth at one side). I wanted to keep it because it was this beautiful and tried fixing it. It worked semi-well, the clip still breaks loose on that point no matter what I try (hot glue, superglue, soldering), but I managed to glue it fast in the center of the clip, so I can use it. Like all barrettes, it slides a little in my hair, though.
Rate: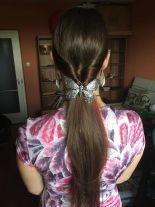 It's a really beautiful and strong hairclip! The quality and the material is perfect!