Made of solid black eco leather.
It will keeps the shape perfectly.
Flap is decorated with huge, grey embroidery.
It presents map of Caribbean sea in decorative frame.
Bag opens with swing hook lock.

Inside lining with large zipped pocket.
Bag comes with long adjustable arm strap,
which allows to wearing the bag over the shoulder.


Measurement:
High 27 cm
Width 37 cm
Side width 10 cm
lenght of arm strap 145 cm
Users reviews
(10)
Average rating: 4.90
Rate:

Wanted this bag for a while and now I have it, it's beautiful and especially love the pattern and clasp closure. Love!
Rate:

I looooove this bag, I thought it would be a map of the world and not the specific area if has and I was surprised to see it.
Rate: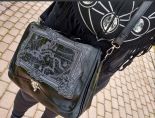 I like this bag. Its pretty comfortable and looking nice
Rate:

I'm quite impressed with this bag, it's sturdy and spacious! The stile with the vintage map is one-of-a-kind and the price still affordable! Would be impossibile to find something like this offline!
Rate:

This bag can hold everything that I need for the office , it's beautifull and very comfortable !
Rate: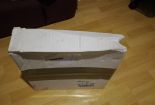 I regret having paid 10€ of delivery to receive a damaged parcel with 3 days of delay (I live in France). My parcel was delivered at 8 pm at my home, the deliverer did not sound, he threw it on the ground on top my gate. Fortunately that I went out outside otherwise the parcel spent at night outside in the rain... By opening the parcel I discovered a bag which corresponds perfectly to the description! It seems very resistant and I can put my computer 13 " inside. Thank you Restyle for this magnificent bag but the delivery needs to be reviewed.
Rate:

I am quite impressed. Consuming the price I thought that the map would be printed on faux leather, but it is an embroidery! Well made item with beautiful details, including logos on zipper pulls and big metal logo plate inside. Just perfect!
Rate:

Really well made. I like this briefcase very much.
Rate:

I am constantly surprised and pleased by the level of quality that Restyle provides. I'm in canada so it takes a while to get to me but it is always 100 percent worth it. This bag is every bit as gorgeous as it looked in the picture, and the strap is adjustable for us taller people. Space was very important to me, as I'm a writer and I'm always carrying at least one novel, a notebook and a multitude of pens and pencils, so the amount of room in this bag is perfect. Thank you again, Restyle! You never disappoint!
Rate:

I just received the bag and I absolutely love it! It's quite roomy and I am very impressed with the construction and embroidery, I have bought it for a gift but I will probably get the same bag or a similar one for myself very soon. GLS shipping to Italy only took four days instead of the estimated 6-8, which was definitely a plus.