Moon Messenger Bag & Backpack

Satchel made of sturdy faux-leather.
Flap is decorated with moon embroidery
surrounded by alchemical symbols.
Briefcase is opened with magnet buttons hidden under the buckle straps.

In the middle there is also anitque lock.
To open the bag drag down the lock element.

Inside bag is divided in half, so it's easy to segregate your items.
There are also two big open pockets, and one large zippered compartment.

Satchel includes long, adjustable strap,
which allows you to wear it as a bag or a backpack!

Project: Euflonica

Measurements:
High 30 cm
Width 40 cm
bottom 20 cm
Adjustable strap lenght 110-130 cm 
All orders are shipped the next business after we receive payment.
The delievery costs depends on weight, measumerents and way of shipment
The delievery cost will automatically be calculated after you add item to basket and fill the shipping address field
e.g. the shipping costs of one 1 t-shirt / 1 light Handbag / Heavy jacket . handbag etc

Europe ~5,7 / 10 / 18 EUR
U.S ~6,5 / 14 / 26 USD
Australia ~12,2 / 31 / 65 AUD

There are few shipping options to choose

Priority registered letter The cheapest tracking service - handled by your national post services from 3-5 days for Europe 7-10 days for U.S. up to 10-14 days for Australia

GLS available only for some European countries - the fastest and more reliable way of shipping we recommend it to you if you are going to place larger order over 2-3 kg

EMS This is the express post service - quite fast - from 3 days for Europe 5-6 days for U.S. up to 7-9 days for Australia much more expensive.


You have the right to ship the product back to us if you don`t like it or the size didn`t fit you.
The return time is 14 days after you RECEIVE the package
We attach the special form of return to everysingle order that leaves our shop.
On the form there is our shipping address all instructions and field to put your paypal or bank account details to return money
You can download the return form
HERE
Please notice that in case of regular returns (you didn`t like the product / size doesn`t fit you etc.) We will refund you only the product value without any shipping costs
If you wish to place a complaint - e.g. if you received wrong item/size , it has been broken during shipment , or it has some fabric faults. Please necessary contact us by e-mail: customer@restyle.pl
It is possible that in that case we will just return money back to you without need for shipping it back.
Restyle.pl high quality steel boned corsets for reasonable price!

Our authentic steel boned corsets are determined by waist size (in inches)
Measurements in size chart are in centimeters. There are dimensions of the corset, without binding.

How to choose the right size of steel boned corset ?
Measure your actual waist at its narrowest point minus 4-7 inches from it. Substract level depends on how much compression you want, how squishy vs firm and your experience level.

You should also pay attention to size under the bust and upper hip.
These measurements should be close to your actual size. This prevents the pressure on the ribs and hip bones.
If a corset is well fitted it should never reach the point where you experience pain, or be so tight that you cannot breathe properly.

In our offer we have several types of corsets suitable for different silhouettes:
WH-wide hips-The hourglass shaped underbust is designed to dramatically shape the waist. Recommended for women with big hip spring.
CU-curved underbust- classic corset suitable for tight lacing. It will fit most types of silhouettes.
Longline underbust- suitable for women with long torso (or tall). Corset with a bit less of a dramatic curve.
Corsets with prints-these are basically classic corsets with less of a dramtic curve.
Overbust corset- We have several types of overbust corsets. Please follow above silhouette labeling.
In our offer we also have unique styles of corsets like Black Armor underbust.
A new corset should be laced a bit loosely. Both the body and the corset must adjust to the systematic pressure, so don't force the corset too quickly as it may break.
It's the best to wear corset couple hours a day so it will adapt to your body properly.
After a while the gap on the back of the corset should be reduced to the minimum and you should break in corset perfectly.
Please note: Corset that's shaped closely to your body's natural shape will season faster than one that is not.

All corsets in our offer are suitable for waist reduction. Depending on the model, corsets provide waist shaping from extreme to delicate.
Remember that corset on different types of silhouettes will present a little differently.

In our corsets we only use spiral steel bones, which fit perfectly to the body and provide comfort. They do not deform even after a long period of using the corset.
On the back there are flat steel bones, which provide the support to the grommets. Because of them corset stay in place.

All our curved corsets have waist tape which serves as protection for the corset's seams.

Each corset is lined with a 100& cotton lining and the modesty panel.

Users reviews
(24)
Average rating: 4.92
Rate:

Beautiful and perfect for carrying laptop and documents! A +++
Rate:

This bag is a positive surprise. Very big and fits a lot. People have asked me why I don't just carry a suitcase, considering the amount of things I fit in it. beautiful and very resistant to rain, which there is a lot of here in Ireland haha. One issue as mentioned by someone as well is the straps. I prefer to wear it as a backpack but the straps wear out and frey very easily, and the metal hooks cannot handle weight well. I have had it for 2 months now and been using it non stop. My laptop fits in there but makes it too heavy for the hooks and makes the straps just strain under the weight. I will have to make some changes to make it endure the weight of a full bag. It would be good to make sturdier straps and hooks for a bag like this.
Rate:

love it! my laptop fits perfectly so very usefull for college
Rate:

I have this item for over two years and it serves me wonderfully, with plenty of space inside and great looks on the outside. However there is one incovenience I have to mention. I had another bag from this site, the brown one with the steampunk-ish map of the world and with this item I had the same issue. The attachments on both sides (those which hold the long strap) are very weak and the metal construction lasted for only a month or so. I had to have it fixed on both sides and the faux-leather attachments began to crumble as well. Fortunately, even when they were crumbled, they did not fall apart completely. I really like Restyle designs and would reccomend it to anyone, but is there something that can be done about the metal attachments? :) Also, it is a pitty that you do not offer genuine leather bags, it would be perfect then!
Rate:

Nice and massive bag. A little bit less comfortable than my other Restyle bags because it is quite stiff and I'm always clumsy whit the magnet buttons. But otherwise it's really lovely!
Rate: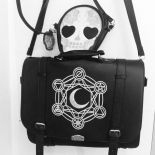 Fantastic bag, with amazing quality. My only issues are that it's so big! Which makes it hard to maneuver around spaces with it, and that when opening the bag while still on my body the flap is so tall i can reach my arm over. I think these are my own personal problems though. The bag itself is wonderful. LOTS of space. Lots of compartments for sorting and storing.
Rate:

I love it! It's perfect for my 13'' laptop. I have to admit, I had some trouble unlocking it at first, but it's okay now that I am used to it.
Rate:

Okay, so I just got this bag in my hands and I love it. It was a lot bigger than I expected and when I'm wearing it as a backpack with all my books for school it doesn't feel heavy. It's really beautiful and I love the feeling of it.
Rate:

This backpack is beautiful, it is large as described, from a sturdy material, the design is lovely, I really love the backpack. I would buy again.
Rate:

this bag is everything, as all the restyle products, this one is absolutely perfect! it was my early christmas gift, and now i use it for work(i have 3 more bags from the shop that are my everyday bags) the bag itself is styrdy and heavy, and the stitched design was one of the reason that made me buy it... always perfect products from them, i love everything you can't have too much restyle bags
Rate:

I've wanted this bag for a while now, so when I saw that it was back in stock I grabbed it! I'm in love with this bag it's also alot bigger than I thought it would be which is a bonus! It is a wonderfully made bag that is of very good quality and I love the fact that the design on the front has been embroidered on instead of being stuck on which is a nice touch. Overall I am very pleased with this bag and how quickly it arrived. I will get alot of use out of it and I can't wait to order more bags!
Rate:

Très beau sac, belles finitions
Rate: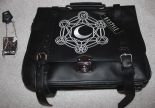 This bag is absolutely amazing and soon as I saw that it had been restocked I just had to get it. Like many here I first thought the print was printed on the bag and when I received it I realized it was sewed on the bag instead which is definitedly big plus for durability and the print is gorgeous. The bag seems to be made from quite sturdy materials and has plenty separate slots inside it as well. Another cute detail inside was the zipper charm hanging from zipper pocket inside the bag, although I won't reveal what is was excatly. ;) The bag itself came in cute packaging although the first thing I needed to do was put bunch of book inside it to form it together. The lock system is really cool and I do admit looking around for a key in case I could actually lock it but seems like it is just decorative which is bit pity but I guess good in case someone lost the key, heh. I also really want to thank Restyle for the extra accessories I received along with the bag. They're adorable and perfect for coming halloween season. Overall I am super pleased with both the service and the product itself!
Rate:

Great bag, to open it, you have to push the lock down, no key required. I was so confused for a long time about it. The straps are a bit of a pain but can work it nicely
Rate: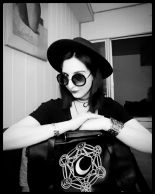 What can i say? I just LOVE this bag! I LOVE Restyle products so much
Rate: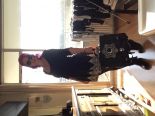 The bag is gorgeous. The quality is high and the straps are very comfortable. I like the sturdiness of the bag because of the leather. I didn't know that the print on the front was stitched on it, I thought is was a print but this make the bag even better. You can store a lot in the bag. I sometimes use it as a diaper bag for my sons stuff. Simply love it!
Rate:

I wanted this bag for an eternity, now that I have it I take it to everywhere!!! Is the perfect bag to small travels and to go to classes. I prefer to use it as a bagpack but it's cool to have the shoulder belt option as well. Very good item. The embellishment being stitched is a bonus sine is much more resistent than if it was printed.
Rate:

This bag is awesome, I like it very much! It's very spacious, resistant and beautiful! The only flaws are that it's a little heavy and I miss an exterior pocket, but it's so versatile and it's perfect for traveling so it's not a big problem!
Rate:

I wanted this bag for so long and now I have it, it's fantastic! I love it, and now this bag is my favourite. I like the quality, the details, the size of it, everything. And I hope it will last for a long time :)
Rate:

I love this bag. The quality is so good, there is so much space and the details are amazing.
Rate:

This is an awesome bag, very spaceful, good quality of details, good for travels, work or just for having a big bag! Thank you so much!
Rate:

This is the greatest bag I've ever bought! It's beautifully made, lightweight, with great detail! It's very spacious and I can't wait to bring it along on my travels.
Rate:

I just received it and I'm trully happy with it. It is really beautiful, the details are amazing. It looks like the quality is good, I hope it's going to last long, since I plan to use it as my school bag. Anyway, I'm really happy to have it !
Rate:

Finally i have this bag too :D It's a HUGE bag :) My laptop fits in and midi keyboard 25 keys !!!! Really like it!