"Gazelle Skull Black" Necklace
Necklace presents 3D gazelle skull with arsenic symbol engraved. The same symbols are placed on the chain.
Antlers are connected with triangle symbol.
Entire necklace is connected with subtle chain. Jewellery is in deep, matte black color.
This occult necklace will look marvelous with black fashion clothes.
Project Euflonica
Measurements:
high of main element 6 cm
total chain lenght 60-70 cm

Every piece of Restyle jewellery is compatible with EU law and it's safe for your skin.
Users reviews
(8)
Average rating: 5.00
Rate:

I like it so much! The design is bold and the price great!
Rate: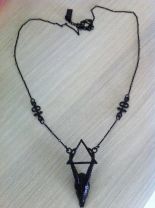 Mon collier favori (décidément, j'aime tout chez Restyle.pl)! Les détails sont exquis, le collier est assez lourd et donc est mieux porté. Vraiment je l'adore!
Rate:

Nice item :) I think it would be nice to have it in a bone like material
Rate:

The necklace is exactly as pictured and described. It is well detailed; there's even the brand name engraved in the inside of the skull. The shipping was unexpectedly fast: I was able to collect the order in the fifth day after it was made. On a side note, I quite like the animal skull motif and wish there was a wider variety to choose from and/or some of the older designs were restocked.
Rate:

Rate:

Rate:

Exactly as shown. Perfect length, design, and matte color. Shipped quickly as well. Thank you, Restyle.pl, for your unique products!
Rate:

This necklace is really amazing, I love it! ^^