Geometry harness

Made of black faux leather. It includes two shoulder straps connected with wide waist belt with O-ring.
All straps are adjustable, also they can be moved on the sides for better fit and comfort.
On the back there is complicated geometry made of straps and O-rings. All metal elements are in silver color.

It will be perfect accesory for simple, black dresses, shirts or corsets! Brings every outfit to completely new level!
Project: Euflonica 

Belt available in two sizes:
S: 60-75 cm (size of the waist)
L: 75-90 cm (size of the waist)
Users reviews
(7)
Average rating: 4.29
Rate:

You can dress it up or down, it's so original and beautiful! Just go one size up if in doubt
Rate:

I highly recommend measuring yourself using the chart before choosing the size. Of course you can adjust it but there is a limit. The detail on the back is simply amazing, but I can't say that the front is boring. This is simply a beautiful piece.
Rate: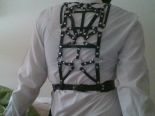 I chose the L size harness and it should've been loose according to the description, but it was very tight. But it does look just like on the picture and even my DD boobs fit inside it, so overall - good product!~
Rate:

totally loved it! good price and fast shipping!
Rate:

This is the second harness form here I bought. I bough this one a size smaller but when it came in it was way smaller than I could work with. I'm going to have to modify it with elastic. All that aside, I love the style. It was good quality too, very well made structurally. :)
Rate:

Great purchase,did not had any problem with the size as it perfectly fits me. Thanks.
Rate:

This is an awesome harness, however, even though I bought the size Small, it is very big. I am a UK size 6, so it would probably fit more an 8-10.