OUIJA planchette hairclips
Clips presents cursor from spirit board OUIJA. 
Planchette are filled with black, matte mass, which contrast beautifully with silver symbols.
These hair accesories with alligator clips, which firmly stays on the head. 
Project Euflonica



Measurements:




high of the cursor 5,5 cm
Every jewellry in our offer is compatible with EU law
Sample of every model has been tested in laboratory.
The test result is available HERE

Users reviews
(9)
Average rating: 4.67
Rate:

Gorgeous hair clips. Large, heavy - best for thick hair I think. They fall down quite easily but maybe with technique I'll make them work!
Rate:

These are cute and well made, I like them very much, just if they were a bit smaller probably they would sit better in my short hair. I have to check them every 10 mins, but perhaps these weren't made for short-haired ladies! ;)
Rate:

Very beautiful hair clips, they look exactly as the image. My hair is quite thin and long so they work perfectly for me. I also got the necklace in the same style!
Rate:

a+++ cheap, fast delivery, nice and they do stay in my hair because it is conected on laces or a tail just above this and pull them side ways they dont slide out of my hair...they get stuck lol....its just how you wear these ;-)
Rate: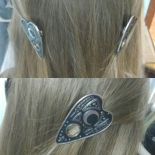 The clips are rather big but they can't pin up a really thick lock. However they're still useful, cute and drop-dead gorgeous. :3
Rate:

The clips are really nice (and yes, big), but the problem for me is the tiny "alligator clip" and the weight of these ouija hair accessories. A little bit too heavy for these little clips, they don't stay very well on my hair.
Rate:

The clips are much bigger than I thought they would be, which is great to me. I really love them and they look exactly like the pictures shown. And the shipping was extremely fast. Overall I'm very much impressed.
Rate:

Really pretty! Love these clips and super impressed with them. They are as someone else said a bit tiny for people with thick hair so it may take a while to make sure they are put properly, but once they are, they cannot be moved!
Rate:

These clips are so cute and amazing. The clips are a bit small for a girl with thick long hair but I can get them to work. Adds a intriguing look to any outfit. Shipped fast and great service.