Vespertilio Black pendant

This beautiful pendant presents bat wings in matte black color. 
In the centre there is a polished gemstone surrounded by ornamental frame.
Below there is a black drop in metal setting with decorative pattern.
Pendant comes with adjustable chain.
Project Euflonica



Measurements:




high with the drop part 8,5 cm


chain lenght 40-50 cm
Every piece of Restyle jewellery is compatible with EU law and it's safe for your skin.

Users reviews
(4)
Average rating: 5.00
Rate:

It is stunning and so unique! Coudn't find anything like this in my country! But I miss the version with the purple stone: please make it again, I want to buy it! A+++
Rate: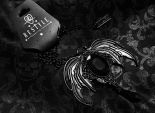 I'm absolutely in love with this piece! it's elegant and very detailed. Majestic! Bat themed jewelry is the best.
Rate:

Big, heavy paint and I love it. Perfectly done! New favorite for sure! :)
Rate:

Beautiful! I am so happy I bought it when I did. Looks amazing with a low collar top or a button up blouse