Gothic Holster

Belt made of vegan leather in black color.
It has three pockets: main big compartment with zipper,
smaller one with side walls and little one with flap closed by magnet snap.
Holster is entirely adorned with pyramid studs, D-rings and little crossed straps.

In the top corners there are two, big metal rings to attach adjustable arm straps.
On the sides and on the bottom there are additional hooks for shorter straps.

Set comes with three adjustable straps which allows to wear this holster in many ways!
You can wear it on hips or on the shoulder as a regular bag, or even on the back as a small bacpack!


Attached straps are entirely covered with gromets so it's totally adjustable! 
Because of that holster will fit any body type, man or a woman :)


Great accesory for any gothic outfit!

Project Euflonica

Size:
22 x 22 cm
Users reviews
(12)
Average rating: 4.92
Rate:

There's less room in it than I hoped, but the quality is good and the design great!
Rate:

The bag has an amazing quality and looks GREAT, I love it. However, it has kind of small pockets and I'm only able to carry a few essential things, but that's not a problem for me so I'm happy with it.
Rate:

Rate:

Fits perfect, love the materials. Same as picture
Rate:

My mom loves it so much!♡ its perfect fits her phone. It is perfect for castlefest and other festivals.
Rate:

very cute bag! not much room for anything in it, but i love it. It does slide down your hip if you walk alot, but i expected that. Its great for wearing at a pub/bar to hold your money, phone and identifications.
Rate: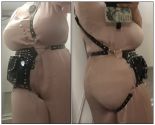 I was unsure if I would manage to fit in it, since I count as plus-size, so I was thrilled when putting it together was a success (and also not as tricky as it can look)! It is extremely adjustable and very comfortable. The most magical part is obviously that you can clip the straps to any place you want, and the combination in my picture spoke to me! I personally do not want it bigger since it fits all I mostly want extra close (cards, phone, keys).
Rate:

I - LOVE - IT !!! It looks amazing, it's a perfect accessory that combines usefulness and beauty, thumbs up for who designed it. Thank you Restyle ♥
Rate:

One of the best accessories I have ever bought! It's good quality and give you more pocket space while looking totally badass!
Rate:

It's really small, just for essentials like cell phone and money, but it's very practical for concerts. I'm looking forward to wear it on summer festivals.
Rate:

I love the look of this bag with all it's studs and straps. You can adjust the lenghts as you prefer and wear it in different ways, as a hip bag, on your shoulder or as a backpack. It's really tiny though! There's only space for essentials like purse, keys, phone and something small like a lipstick. Unfortunately as I wore it the first time at a concert, one of the carabiners broke. This was very disappointing, but I complained and after a week I got a new strap.
Rate:

still not tried outside, but i love this, it's comfy and amazing bought this because i have a large waist and it's great, you can adjust the size and the lenght however you want it's perfect for fun or for work

Update Required
To play the media you will need to either update your browser to a recent version or update your
Flash plugin
.