Assassin Gothic Coat



This instantly flattered coat is made of very thick and firm cloth (65% polyester 35% wool). 
Very beautiful outwear which gives a beautiful silhouette.
Jacket is fully warmed with polyfill 100g, great for winter weather without feeling "puffy".
Black zipper closing ended with crescent moon. 

Jacket was made of geometry forms accentuating a femine fit,
faux leather trimmings keep the style smart and sophisticated.
Assasin coat can be dressed up for special occasions or for everyday use.

Jacket has huge hood also adorned with faux leather trimmings. Coat has side pockets.

| | | | | | | | |
| --- | --- | --- | --- | --- | --- | --- | --- |
|   | XS | S | M | L | XL | XXL | XXXL |
| Bust | 90 cm | 96 cm | 102 cm | 108 cm | 114 cm | 118 cm | 122 cm |
| Waist | 68 cm | 74 cm | 80 cm | 86 cm | 92 cm | 96 cm | 100 cm |
| Length (center back) | 72 cm | 73 cm | 74 cm | 75 cm | 76 cm | 77 cm | 78 cm |
| Size | Shoulder width | Bust | Waist | Sleeve length |
| --- | --- | --- | --- | --- |
| XS | 38 | 92 | 74 | 62 |
| S | 39,5 | 96 | 78 | 63 |
| M | 41 | 100 | 82 | 64 |
| L | 42,5 | 103 | 85 | 65 |
| XL | 44 | 107 | 89 | 66 |
| XXL | 45,5 | 111 | 93 | 67 |
| XXXL | 47 | 115 | 97 | 68 |
Users reviews
(19)
Average rating: 4.84
Rate:

Very comfortable and warm! Great quality!
Rate: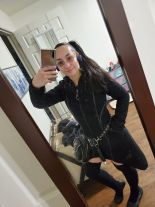 I love the design and the silhouette this item gives me in the winter, it is my sexiest coat I think, however I would definitely consider wearing a long sleeve or thermal shirt underneath this coat if temperatures decline equal to or below 32°F/0°C, ESPECIALLY if there is wind chill. For a $100+ winter coat, I expect more in terms of warmth in frigid temperatures, is all. The fit is slightly tighter than expected in the waist, but that is manageable however, the sleeves are also quite tight, making it a bit challenging to layer up underneath the coat.
Rate:

Absolutely great coat! Nice and warm but not bulky looking and very flattering. Though I agree with a lot of the reviews about sizing up if you want to layer up, especially because the arms are tight. While I love the size of the hood, it is so big that sometimes it just falls over my head or off of my head. I easily fixed that by sowing the sides down onto the shoulders of the jacket, still looks just as great and the hood is much more functional.
Rate:

Definitely size up on this one. My regular is a size M, I'm a UK10-12 but reading the reviews I got a size L! Glad I did as it fits me perfectly and it's snug on the arms (I don't have particularly larger arms). I'm 5'9 though. Anyway, it's thicker than I expected and the hood is really huge! Fits ok and it's slightly large around the waist but not much room other than that, I don't think I can wear a thick sweater underneath but with regular tops it's fine. Overall I like it and I'm glad I got it, with the halloween discount it was a good price for the quality.
Rate:

The overall quality of this coat is amazing, love it! It's fairly warm, thick enough and true to size, the zipper looks study and gosh, it has pockets
Rate:

I was slightly sceptic of how warm this jacket would be, but it is actually really warm! and I think I could survive the winter with it. The collar is very large to the point it exposes your collarbones, so be sure to wear a scarf against the cold. The hood is huge, which is really beautiful but also a little unpractical, since it either falls over your face or off your head. Nontheless I still love it. It was a little tight at first, especially in the elbows, but it will loosen up the more you wear it. Eventhough its tight I manage to wear sweaters under it. (I wear size S) I really really love this jacket and get tons of compliments on it. the only problem is; the moon charm that was attatched to the zipper already fell of on the FIFTH day of wearing the jacket! I was so disappointed! And I can't find it anywhere. I am not sure what might have caused it, since I don't remember doing any activities that might have caused it. I am trying to find a new charm to hang from it. Overall a great, beautiful jacket. the zipper charm falling off was quite disappointing, but I guess that is fixable.
Rate:

I am absolutely in love with this coat. The quality is amazing. I ordered two sizes up (I usually wear an XL) and I'm very glad I did. It fits perfectly, it's very warm. I'm so very happy with it! I received it very quickly as well!
Rate:

I usually order a size up from Restyle, specially because of the sleeves, but I always check the reviews before I order. So in the reviews this time, some people wrote to size up others didn't so I took a chance and order a size M, my size. First of all it is a nice and warm jacket, that for portuguese winters will be more than enough, it is a very well made jacket, the pockets are big as I love them(my cell phone fits there) and it has this comfy fit. If you are a person that need to layer you should order a size up, specially because of the sleeves. If not, order true to size. Because the waist effect is perfect.
Rate:

I ordered a size larger as my size was sold out and I thought it would be handy to fit extra layers underneath when the freezing weather comes. I'm very happy with it, it fits a jumper underneath and is still not too baggy. And doesn't feel too thick, it's breathable but also very nice and cozy and warm! The hood is nice and huge, so I have no problem fitting it over my dreadlocks, even when I'm wearing my hair up. Very happy indeedy.
Rate:

Very warm coat with big pockets. I got a larger size than I normally wear, as that was all that was in stock. I don't mind though, as the sleeves seem a snug fit and a smaller size may have been too small in the arms. The larger size does not give as much shape to the waist as in the pics, but I quite like the looser fit and the longer length on me (sides fall below the knee). Soft cosy material, quality lining and well-made.
Rate:

Beautiful and really warm. I love it!
Rate:

Worth the money! It's really thick and stays real warm. The fabric is awesome and the oversized hoodie is cuddly. But it's a little tight on the arms so if you want to layer you should get a size bigger
Rate:

Received it yesterday, October 30, ordered it the 24th, so very fast shipment from Poland to Belgium within only one week! Love the coat, it's nice and warm and I'm glad I ordered XL for it to be a bit looser since I go to work on my bike and I don't want it to be too tight. It's a perfect choice! (I usually wear a size M/L) Thanks Restyle team, you made my day!
Rate:

The coat is super warm and comfy. I ordered a size up ,so it's a bit large at the waist area but i can wear any hoodie or sweater underneath if the weather turns really cold. The design and the details are gorgeous, love it.
Rate:

Really high quality, cosy and warm so is perfect for winter, and pretty waterproof. The hood is enormous, so sometimes falls down over the eyes but as long as you position it properly it isn't an issue. I ordered a size up but I'm short so it is pretty long on me, ordering my actual size would probably have been fine. Definitely recommend, a perfect coat for the winter/autumn months.
Rate:

I bought this coat and can't stop wearing it whenever is cold outside. It has become my absolute favorite! Very comfortable and gives you a flattering shape while keeping you warm because it's really warm inside! Another of the best purchase's I've done. It's good quality, charming style, super cute moon charm in the zipper and true to size, fits perfectly and you can layer underneath comfortably!
Rate:

It looks amazing and it's super warm! The hood is super huge, I'm usually an S and I went for a M size, best choice, can fit a jumper underneath it! In love with the design ✨
Rate:

I decided to get this for winter because you can never have too many jackets. It's much heavier than I expected which is good because it's been keeping me warm this winter. The material is very soft and the zipper's pull charm is a cute touch. I got a small because I'm petite and it fits well other than the sleeves are bit snug but it's not a big issue.
Rate:

I love this coat. It is lined and thick, so it will keep you warm for fall and spring weather. Because of the lining and material, it does fit on the smaller side, so I would recommend going a size up if you are unsure.

Update Required
To play the media you will need to either update your browser to a recent version or update your
Flash plugin
.