Bat Choker
In the centre of the choker there is polished gem surrounded with detailed bat wings.
 On the sides there are segments with symbols from Necronomicon by H.P. Lovecraft.
Entire necklace is filled with black, matte mass which contrast  beautifully with silver elements.
 Choker is adjustable. One size fits all.
Project Euflonica 
Restyle's unique jewellery design with the original branding.
Measurements:
Circumference 25-45 cm 
High of main element 5 cm

Every Restyle jewellery piece is compatible with EU law and it's safe for your skin.
Users reviews
(4)
Average rating: 5.00
Rate:

Majestic and adorable! Fantastic design!
Rate:

This is my new favourite necklace. It's so stunning. Great Quality.
Rate: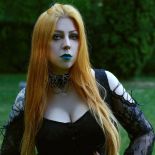 Such a beautiful choker! Very good quality and I love the bat wings and Necronomicon sigils. A must statement piece for us batty individuals! xx
Rate:

The necklace is beautiful and goes with so many things. I absolutely adore it. My only qualms are that it's mildly uncomfortable and when it came one of the connector pieces wasn't there and floating at the bottom of the bag. However, the mild discomfort is easily ignoreable and I was easily able to reconnect that connector piece. I would highly recommend this necklace to anyone considering it.