Nugoth Hoodie



Made of very thick, knitted cotton, very warm and super soft inside.  Perfect for chilly evenings.
On front and back hoodie is decorated with moon phases print on geometric background.
The triangle pattern is adorned with cotton fringe.

Oversized hood has moon phases print on it's edge. It looks marvelous lying down or put on the head.
It has hollow pockets, big hood and pullers on the cuffs and the bottom. 

Perfect blouse for everyday use to feel a witchy vibes.
| | | | | | | |
| --- | --- | --- | --- | --- | --- | --- |
|   | XS | S | M | L | XL | XXL |
| Bust | 96 cm | 100 cm | 104 cm | 108 cm | 112 cm | 116 cm |
| Waist | 72 cm | 76 cm | 80 cm | 84 cm | 88 cm | 92 cm |
| Length | 70 cm | 70 cm | 70 cm | 70 cm | 70 cm | 70 cm |
| On the bottom | 88 cm | 92 cm | 96 cm | 100 cm | 104 cm | 108 cm |
| Sleeve length | 65 cm | 65 cm | 65 cm | 65 cm | 65 cm | 65 cm |
All orders are shipped the next business after we receive payment.
The delievery costs depends on weight, measumerents and way of shipment
The delievery cost will automatically be calculated after you add item to basket and fill the shipping address field
e.g. the shipping costs of one 1 t-shirt / 1 light Handbag / Heavy jacket . handbag etc

Europe ~5,7 / 10 / 18 EUR
U.S ~6,5 / 14 / 26 USD
Australia ~12,2 / 31 / 65 AUD

There are few shipping options to choose

Priority registered letter The cheapest tracking service - handled by your national post services from 3-5 days for Europe 7-10 days for U.S. up to 10-14 days for Australia

GLS available only for some European countries - the fastest and more reliable way of shipping we recommend it to you if you are going to place larger order over 2-3 kg

EMS This is the express post service - quite fast - from 3 days for Europe 5-6 days for U.S. up to 7-9 days for Australia much more expensive.


You have the right to ship the product back to us if you don`t like it or the size didn`t fit you.
The return time is 14 days after you RECEIVE the package
We attach the special form of return to everysingle order that leaves our shop.
On the form there is our shipping address all instructions and field to put your paypal or bank account details to return money
You can download the return form
HERE
Please notice that in case of regular returns (you didn`t like the product / size doesn`t fit you etc.) We will refund you only the product value without any shipping costs
If you wish to place a complaint - e.g. if you received wrong item/size , it has been broken during shipment , or it has some fabric faults. Please necessary contact us by e-mail: customer@restyle.pl
It is possible that in that case we will just return money back to you without need for shipping it back.
Restyle.pl high quality steel boned corsets for reasonable price!

Our authentic steel boned corsets are determined by waist size (in inches)
Measurements in size chart are in centimeters. There are dimensions of the corset, without binding.

How to choose the right size of steel boned corset ?
Measure your actual waist at its narrowest point minus 4-7 inches from it. Substract level depends on how much compression you want, how squishy vs firm and your experience level.

You should also pay attention to size under the bust and upper hip.
These measurements should be close to your actual size. This prevents the pressure on the ribs and hip bones.
If a corset is well fitted it should never reach the point where you experience pain, or be so tight that you cannot breathe properly.

In our offer we have several types of corsets suitable for different silhouettes:
WH-wide hips-The hourglass shaped underbust is designed to dramatically shape the waist. Recommended for women with big hip spring.
CU-curved underbust- classic corset suitable for tight lacing. It will fit most types of silhouettes.
Longline underbust- suitable for women with long torso (or tall). Corset with a bit less of a dramatic curve.
Corsets with prints-these are basically classic corsets with less of a dramtic curve.
Overbust corset- We have several types of overbust corsets. Please follow above silhouette labeling.
In our offer we also have unique styles of corsets like Black Armor underbust.
A new corset should be laced a bit loosely. Both the body and the corset must adjust to the systematic pressure, so don't force the corset too quickly as it may break.
It's the best to wear corset couple hours a day so it will adapt to your body properly.
After a while the gap on the back of the corset should be reduced to the minimum and you should break in corset perfectly.
Please note: Corset that's shaped closely to your body's natural shape will season faster than one that is not.

All corsets in our offer are suitable for waist reduction. Depending on the model, corsets provide waist shaping from extreme to delicate.
Remember that corset on different types of silhouettes will present a little differently.

In our corsets we only use spiral steel bones, which fit perfectly to the body and provide comfort. They do not deform even after a long period of using the corset.
On the back there are flat steel bones, which provide the support to the grommets. Because of them corset stay in place.

All our curved corsets have waist tape which serves as protection for the corset's seams.

Each corset is lined with a 100& cotton lining and the modesty panel.

| Size | Bust | Waist | Length | On the bottom | Sleeve length |
| --- | --- | --- | --- | --- | --- |
| XS | 96 | 72 | 70 | 88 | 65 |
| S | 100 | 76 | 70 | 92 | 65 |
| M | 104 | 80 | 70 | 96 | 65 |
| L | 108 | 84 | 70 | 100 | 65 |
| XL | 112 | 88 | 70 | 104 | 65 |
| XXL | 116 | 92 | 70 | 108 | 65 |
Users reviews
(23)
Average rating: 4.83
Rate:

Such a comfortable and stylish hoodie. I love it! Size up if you want it a bit looser, I went according to measurements and it's fitted which is perfect for me. Very warm and cozy fabric. Thank you Restyle!
Rate:

I bought this hoodie 3 years ago, it has lived a lot and it has aged very well. After about twenty passages in the washing machine, the print didn't move ! Not even damaged, to say how good the print quality is there. The fringes remained intact. I wore this hoodie very often, and it resisted very well. Very good fabric. I don't regret having bought it, it is still as beautiful today !
Rate:

The hoodie is really nice and high quality, however, it was a little smaller than expected (due to thick fabrics I guess). My bust is 102cm and L fits just right, but I would have taken a size up. Anyway, it's a beautiful piece of clothing that I intend to wear a lot.
Rate:

Seriously one of the best pieces of clothing I've ever owned, I had been eyeing this hoodie up for years and just always reminded myself of the times I've ordered clothing online and was extremely disappointed, either by the quality or misconception of what the article is supposed to look like VS how it actually did. But this one is such good quality and every time I've worn it out I get compliments so I'm assuming it looks decent! Love love love it! Good job guys!
Rate:

Lovely hoodie! Size L fits as expected!
Rate:

I read the previous comments and felt a bit uneasy ordering this hoodie, but I couldn't help myself. It looks really cool and I had to have it. Lucky me, I received a very warm, comfy, wonderful hoodie, just as I imagined it. Wearing it was just lovely - it is so soft and warming on the inside. A must wear for the autumn - winter season.
Rate:

Love the look of this of this hoodie. As has been said is super soft on the inside. fits nice, but is a little to tight in the chest. Was a little worried the zipper might break (and that is the 2XL). These definitely are not made for plus sized people.
Rate:

I like it very much even tho im not too big fan of a fringe but on this hoodie it looks good, i love the cut! I reccomend :)
Rate:

VERY DISAPPOINTED. I was obsessed with this sweatshirt online for a while. I bought it and it was beautiful and fit perfect. However, the small was a tad bit too tight and my stomach was hurting me a lot, and I didnt want to put that much pressure on it. The sweatshirt was fitted to a woman's curves. I returned the sweatshirt for a medium, and got an entirely different sweatshirt in return. The medium fit me like an XL, it was huge, the sweatshirt was not as fitted and feminine and flattering, it looked like a cheap knock off. The quality was severely less. The sweatshirt went from something I loved to something I hated. I returned it for a small, and got the same new cheap quality and cut that I received in the medium. Note: The new small is still way bigger and baggy compared to the first good quality feminine small that I received. I had to pay return shipping from USA which is expensive in order to be sent a lesser quality cheap baggy version of this sweatshirt. This is the truth and be educated about the new quality before you buy so you dont end up wasting all this money on a sweatshirt that will sit in your closet for a year like mine did. Im going to list it on ebay.
Rate:

This hoodie is a killer!! Perfect fit for size XS and bestest fabric quality. The big lined hood, the print and the fringe - everything is awesome in this item. It's been my most worn piece of clothing for about a year now (yes, it took me this long to get myself to writing a review). Thank you, Restyle! Keep rocking!!
Rate:

Size L was perfect for me, not baggy but not too tight either, and Im usually between M and L. What I really did't like is that in the picture the design looks white and when you receive it it's actually grey... but overall I really like it and it's cozy for winter.
Rate:

It's perfect! Flattering fit, it's so nice on- not big and bulky like so many hoodies- I can wear this and still have a girly shape. Thick and warm material, too. Going to love wearing this when the cool weather hits! I'd say it runs true to size, I'm a smallish medium usually and the medium is perfect. If you like a roomier hoodie, size up.
Rate: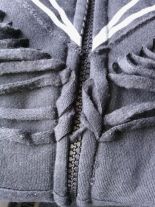 Long story short, I bought the hoodie and sadly had to return it due to defects. The fringe was sewn into the seams in a messy fashion, I couldn't even save the hoodie by ripping the seams since it was all messed up near the zipper, which is plastic(I would prefer metal considering the price of this hoodie). Otherwise.. the size fit me. It was a large. I have size D breasts with a belly though I still have a some what hourglass shape, it fit really nice, hugs in good ways. I wanted a different hoodie from restyle but I have no idea when they will restock it...... I don't use social media, so I wont get those posts either. (hint hint Restyle, post that information on this site too More of a heads up then a single email I might miss. Please
Rate:

very happy with how it fits me, it fit better than I expected and is really comfortable. I was afraid of it tuning my curves too much but I'm able to remain neutral with it which makes me very happy. The frills will curl and tangle (especially in wash) but combing your fingers through them help. Just glad they haven't torn yet, though I'll probably remove them if they do. I see comments say the prints are actually grey and not white, which is partially true? the lines are grey but the moons still have white on them, there's a nice contrast to the design.
Rate:

Such an amazing hoodie! The quality is amazing, and it's so warm! I get a lot of compliments when wearing it! I'm a size 12 so bought a Large and it fits perfectly (it's not baggy so if that's what you're looking for, I would go up a size!).
Rate:

I love this hoodie, the print is beautiful, it's warm, comfy and it fits perfectly. Sizing as described. Only 4/5 stars because the little full moon on the front is a little off, where the zipper closes, one side is a little higher than the other side, so it's not entirely matchy. But luckily I have a sewing machine so I can fix that easily. Very happy with the hoodie
Rate: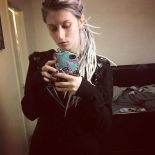 Warm, comfy, soft, the design is gray not white but i actually prefer the gray anyways, I got a size S like i usually wear but could have easily gone down to an XS, it is very roomy, i love how long the sleeves are, i have very long arms but they cup my hands so i'm really happy about that, the hood is huge which is so pretty, i really love this hoodie, would recommend for fall or even winter as an undercoat.
Rate:

It's really comfy and the design is just gorgeous! I was scared it wouldn't fit me since I order the XXL but my chest is actually almost 120cm (blame the FF bra size) but it actually fits perfectly!
Rate:

This hoodie is so warm and comfy! The patterns are grey and not white as shown on the picture, but are still beautiful. It is a really unique top that I recommend to anyone.
Rate:

The shipping on this was a bit slower than I expected, but only by a day or two. And the wait was definitely worth it, because this hoodie is gorgeous. I love the design and the hood is HUGE, which I love. I have one complaint though - I ordered an extra small (I'm usually either a small or extra small) and I was expecting it to be quite tight. The model in the picture looks far smaller than me and the hoodie looks quite fitted on her, but on me it Seems a bit big. Maybe this is because of different body types or something, but I just wish that there was a size smaller for slimmer people who want a more fitted size. Another tiny minor detail that I noticed was the on the website the line patters are white, but in real life they are grey. Minor detail, I know, but I always feel the need to point these things out in order to give an honest review. Both of these criticisms don't impact how much I LOVE this hoodie, though. The material is of such high quality and is so soft and thick that I can see myself getting a lot of use out of this garment. It's a truly unique design that you wouldn't be able to find anywhere else, so if you're thinking of getting this I advise that you go for it- it's totally worth the splurge. If you want a tighter fit though, I'd probably suggest downsizing but if you want a slighly more comfy fit, stick with your size or size up for maximum comfort.
Rate:

Rate:

I absolutely lovelovelove the design and the materials! The hoodie is super soft and warm on the inside, and super comfortable. The only thing I have to say about it, is that the size L is a little tighter than usually (and I've actually lost weight, so...) , so I would advice people to go up one from their regular size for the maximum comfort. Full review and more pictures in my blog: http://bellefernal.com/2016/12/16/restyle-moon-geometry/ x Lilly http://bellefernal.com
Rate:

Pull magnifique, j'adore la coupe