Waist belt with a crecent moon a nd a big ring.
Made of black vegan leather with an elastic on the back.
Perfect accessory for every plain black look.
Belt available in two sizes:
S:  56 cm (without stretching the elastic)
L:  69 cm (without stretching the elastic)
Users reviews
(7)
Average rating: 5.00
Rate: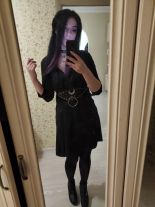 Add this waits belt to any basic dress - and you get a gothic look! =D It's just splendid. Ordered L, it's fits my waits (77 cm)
Rate:

The quality of this belt and the way it fits amazed me. Compliments the waist and adds an elegant/ gothic touch to the outfit.
Rate:

I absolutly love this belt. It is very comfortable to wear and does not tweak. I think the quality of this belt will last for a long time
Rate:

I first ordered a size L because my waist is about 71cm, but it was out of stock so I changed it to a size S. So glad I did, it fits me well but it is not too tight either. Looks fierce, I love it!
Rate:

Really cool belt I love it! It adds a touch of style to every outfit