Bat Necklace

Gothic pendant made of antique silver alloy in the shape of a bats.
 Adorned with polished, glass stone.
Perfect accessory for every gothis fashion lover.

Project Euflonica  


Restyle's unique jewellery design with the branding





Measurements:


high 7,5 cm
adjustable chain: 50-60 cm

Every piece of Restyle jewellery is compatible with EU law and it's safe for your skin.

Users reviews
(4)
Average rating: 4.75
Rate:


This is 100% absolutely one of my favorite pieces I got from their collection, I just wish they had the black one in stock when I was shopping so I could of gotten them both at the same time. The detail is stunning, who doesn't like a black stone on a lovely piece of jewelry~ I thought the tips of the wings would be slightly sharp just by looking at them, but it wasn't. It was completely comfortable to wear. I had a problem with the lobster clasp not opening, like my snake necklace I got from this company. But it was easily fixed with a bit of natural oil and pliers to wiggle it a bit to get it unstuck. Would of given this 5/5 if it didn't have that slight imperfection and inconvenience. But don't get me wrong I don't regret buying this piece at all. At some point I will definitely get the black version of this adorable bat, I can't wait >.
Rate:

Absolutely love it, it's a beautiful statement piece!
Rate: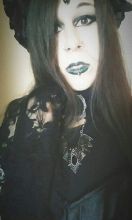 Amazing necklace , interesting details im in love with it
Rate:

Awesome!!! I'm super happy about it!! Please go back to this kind of styles!! ^-^