Harness Leggings 
Perfect for everyday use.
Just throw a black top, gothic hoodie and you are ready to go.


Made of stretchy, very thick cotton, perfectly fitted to the body (92% cotton, 8% spandex).
On the thights there is a strong mesh part with faux leather straps pattern.
Above it there are metal groomets.


Leggings with high waist with elastic for better comfort and fit.




If you have legs with big muscles, we recommend select one size bigger than you usually wear.



Print designed by: Euflonica

All orders are shipped the next business after we receive payment.
The delievery costs depends on weight, measumerents and way of shipment
The delievery cost will automatically be calculated after you add item to basket and fill the shipping address field
e.g. the shipping costs of one 1 t-shirt / 1 light Handbag / Heavy jacket . handbag etc

Europe ~5,7 / 10 / 18 EUR
U.S ~6,5 / 14 / 26 USD
Australia ~12,2 / 31 / 65 AUD

There are few shipping options to choose

Priority registered letter The cheapest tracking service - handled by your national post services from 3-5 days for Europe 7-10 days for U.S. up to 10-14 days for Australia

GLS available only for some European countries - the fastest and more reliable way of shipping we recommend it to you if you are going to place larger order over 2-3 kg

EMS This is the express post service - quite fast - from 3 days for Europe 5-6 days for U.S. up to 7-9 days for Australia much more expensive.


You have the right to ship the product back to us if you don`t like it or the size didn`t fit you.
The return time is 14 days after you RECEIVE the package
We attach the special form of return to everysingle order that leaves our shop.
On the form there is our shipping address all instructions and field to put your paypal or bank account details to return money
You can download the return form
HERE
Please notice that in case of regular returns (you didn`t like the product / size doesn`t fit you etc.) We will refund you only the product value without any shipping costs
If you wish to place a complaint - e.g. if you received wrong item/size , it has been broken during shipment , or it has some fabric faults. Please necessary contact us by e-mail: customer@restyle.pl
It is possible that in that case we will just return money back to you without need for shipping it back.
Restyle.pl high quality steel boned corsets for reasonable price!

Our authentic steel boned corsets are determined by waist size (in inches)
Measurements in size chart are in centimeters. There are dimensions of the corset, without binding.

How to choose the right size of steel boned corset ?
Measure your actual waist at its narrowest point minus 4-7 inches from it. Substract level depends on how much compression you want, how squishy vs firm and your experience level.

You should also pay attention to size under the bust and upper hip.
These measurements should be close to your actual size. This prevents the pressure on the ribs and hip bones.
If a corset is well fitted it should never reach the point where you experience pain, or be so tight that you cannot breathe properly.

In our offer we have several types of corsets suitable for different silhouettes:
WH-wide hips-The hourglass shaped underbust is designed to dramatically shape the waist. Recommended for women with big hip spring.
CU-curved underbust- classic corset suitable for tight lacing. It will fit most types of silhouettes.
Longline underbust- suitable for women with long torso (or tall). Corset with a bit less of a dramatic curve.
Corsets with prints-these are basically classic corsets with less of a dramtic curve.
Overbust corset- We have several types of overbust corsets. Please follow above silhouette labeling.
In our offer we also have unique styles of corsets like Black Armor underbust.
A new corset should be laced a bit loosely. Both the body and the corset must adjust to the systematic pressure, so don't force the corset too quickly as it may break.
It's the best to wear corset couple hours a day so it will adapt to your body properly.
After a while the gap on the back of the corset should be reduced to the minimum and you should break in corset perfectly.
Please note: Corset that's shaped closely to your body's natural shape will season faster than one that is not.

All corsets in our offer are suitable for waist reduction. Depending on the model, corsets provide waist shaping from extreme to delicate.
Remember that corset on different types of silhouettes will present a little differently.

In our corsets we only use spiral steel bones, which fit perfectly to the body and provide comfort. They do not deform even after a long period of using the corset.
On the back there are flat steel bones, which provide the support to the grommets. Because of them corset stay in place.

All our curved corsets have waist tape which serves as protection for the corset's seams.

Each corset is lined with a 100& cotton lining and the modesty panel.

| Size | Leg circumference | Knee Circumference | Open leg circumference | Lenght | Waist |
| --- | --- | --- | --- | --- | --- |
| S | 44 cm / 17.3 inch | 28 cm / 11 inch | 21 cm / 8.3 inch | 95 cm / 37.4 inch | 62 cm / 24.4 inch |
| M | 46 cm / 18.1 inch | 29 cm / 11.4 inch | 22 cm / 8.7 inch | 95 cm / 37.4 inch | 64 cm / 25.2 inch |
| L | 48 cm / 18.9 inch | 30 cm / 11.8 inch | 23 cm / 9.1 inch | 95 cm / 37.4 inch | 66 cm / 26 inch |
| XL | 51 cm / 20.1 inch | 32 cm / 12.6 inch | 24 cm / 9.4 inch | 95 cm / 37.4 inch | 70 cm / 27.6 inch |
| XXL | 54 cm / 21.3 inch | 34 cm / 13.4 inch | 26 cm / 10.2 inch | 95 cm / 37.4 inch | 74 cm / 29.1 inch |
Users reviews
(5)
Average rating: 4.40
Rate:

These are bold and comfy at the same time. They run a bit larger than expected, but very good quality, so would totally recommend!
Rate: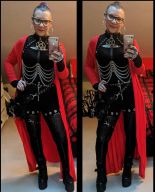 Absolutely love these leggings, I agree with other reviews about sizing down, as per the size guide I bought the XXL and they are big around the waist, but this does not affect the wear of them. They are really comfy and an awesome addition to my wardrobe which I look forward to wearing over and over again.
Rate:

These leggins are pretty cool! Although, the size doesn't fit me as I would like to, I have wide hips and narrow waist, so these ones are a bit loose in the waist area. Anyway, they are quite unique! I wanted these to wear something different and goth to my yoga classes. They are comfortable and easy to move with! The worst part is the faux leather, it looks way too fake and the straps don't bent nice when you move your legs. Overall, these leggins are cool but they are too expensive for the quality.
Rate:

These are thinner than I was expecting. They also do run larger than the size chart. The smallest size is a small, and it was huge in the waist on me. I'm a 24-25" waist. The leggings themselves have a cool design, but they are too large for me to wear.
Rate:

Love these! They are fairly stretchy, so they hug you in the right areas. If you like leggings that are high waisted with a thicker fabric than you typical cheap leggings, these are it.