Pentagram hobo bag made of solid, black velvet and faux leather decorations.
In the center of the bag there is double zipper with pentagram.
It's
 surrounded with faux leather panels.
Bag comes with long, adjustable arm strap.

 Inside there is black ,soft lining with two pockets. Big zipped one and other smaller one.
There is also one more pocket on the back of the bag.
Original Restyle design with our branding.
Project: Euflonica
Size:
High: 28 cm
Lenght: 44 cm
Lenght of the arm strap: 120 cm
colour

:

black

wymiar

:

39cm

,

40cm

,

11cm



Users reviews
(2)
Average rating: 5.00
Rate:

It's fantastic! Sturdy and well made, capacious and makes a statement!
Rate: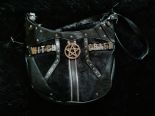 Truly and eyecatcher! A super comfy, soft velvet bag with convenient inner and outer zipped pockets, shiny metallic pentagram charms and an adjustable strap. The letters that spell "witchcraft", albeit capable of being moved a bit, are safely attached.