Large silver hoop earrings.
Snakes can remind eden garden and sin that it was supposed to bring on all human race.
Bigles of earrings are nickle free, they are made of 925 silver.
Snakes itself is made of zink alloy, which is in accordance with Europan regulations.
Diameter of snakes are 5,5 cm / 2,2 inch
Users reviews
(9)
Average rating: 5.00
Rate:

Super pretty! I was prepared for these to be heavy since some reviews mention their weight, but I find them quite light for their size. If you are used to heavier earrings you will have 0 weight problems with them!
Rate: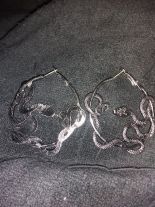 Absolutely loved this piece from their collection, I would say they are my favorite hoop earrings that I currently have. They have slight weight to them which I enjoyed, and no issues with the earrings itself. They do what they are supposed to and honestly if you are thinking of getting these, don't hesitate! It made me sad when the black version of these earrings were out of stock, really wanted to get them both.. Shipping was horrible but not due to the company, it is just what is going on in the world. Took 1 month to get here (from Poland to USA) so keep that in mind.. Overall I enjoy these immensely!
Rate:

They look amazing. Just be careful, because they are rather heavy.
Rate:

Rate:

Rate:

Got them for my gf. She loves them. They are a bit heavy. The design is beautiful.
Rate:

Love them!! Don't find them heavy at all.
Rate:

They're a little on the heavy side, so I usually don't wear them for too long. Both the earrings are exactly the same, so they're not mirrored. Nonetheless, this pair is beautiful and I wear them all the time.
Rate:

very nice but kind a heavy for in the ear, nice price, fast delivery a+++