Black, gothic dress with moon phases.
Made in Poland out of 100% strong cotton.
Top without any printing, it has mesh shaped as Crescent Moon.
It could be worn as a dress or a tunic. It has oversized shape with accented waist.
This design is both classic and unique at the same time.
The mesh moon phases catch the attention.
It goes well with almost all jewellery, clothing or any other hat or accessories from our website.
| Size | Obwód biustu | Długość |
| --- | --- | --- |
| XS | 80 cm / 31,5 inch | 87 cm / 34,3 inch |
| S | 84 cm / 33,1 inch | 88 cm / 34,7 inch |
| M | 88 cm / 34,6 inch | 90 cm / 35,4 inch |
| L | 92 cm / 36,2 inch | 92 cm / 36,2 inch |
| XL | 96 cm / 37,8 inch | 93,5 cm / 36,8 inch |
| XXL | 102 cm / 40,1 inch | 95 cm / 37,4 inch |
| XXXL | 108 cm / 42,5 inch | 97 cm / 38,2 inch |
Users reviews
(13)
Average rating: 5.00
Rate:

This top is so comfortable and soft I will definitely order more tops from you
Rate:

Nice, easy to wear, comfy and stylish!
Rate:

Very nice Item, looks great to Leggings. For summer.
Rate:

I love this dress! It's perfect for summer and spring, and it's so flowy! Makes me wanna frolic!!! ;)
Rate:

Nice, comfortable, and better fabric than what I expected. Even possible (I'm about 1,8m) to wear it as a dress, even if it's a very short one.
Rate:

I was afraid it wouldn't fit nice on my shoulders, but it's just perfect!!! True to size, a little baggy and not too short but really elegant. Light weight and not transparent! The moons are a hell of a cute touch. Can't wait for summer to finally wear it!
Rate:

A bit personal but this is the first dress with short sleeves that cover scars on my upper arms so I feel so confident and haooy with this dress! It's light, it fits right, the moon phases are cute! I definitely recommend this for fit and how light it is. Perfect for summer time!
Rate: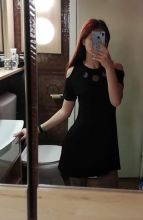 Love it, it fits nice and it's very comfortable to wear :)
Rate:

I got my usual size M and it fits fine, it's loose fitting so it doesn't cling anywhere. I was under the impression that it was narrower around the waist for a more flattering fit, but I guess if it is, it's not much as it's still quite loose on me. I'm 5'8 (176cm) and size UK12 and it's short but not too much, I think I can still pull it off as a dress, maybe I'll wear with shorts underneath. Adding a belt and using it as a tunic will also look great. I love the mesh detail and the cold shoulder
Rate:

comfortable and nice price very nice, i wear this whit a legging but ca be worn whitout its long enough. love it. a+++quality
Rate:

I received this dress yesterday and I am wearing today. It's soft and fits so nice like a tunic/dress. I am usually a size M on Restyle and I ordered M on this dress too and it´s a perfect fit. I am wearing it as a dress since it's not that short! And the moons are amazing. The cut of this dress is gorgeous. You'll love it!
Rate:

Lovely top/dress! I am a German size 38 (M) , 1.75 m tall and took a size S and it is still wide enough to be loose-fitting however not too baggy. Its ist long enough to be worn as a mini dress. I also have the Crescent Dress in S and it is similar in size. The middle "moon" cutout displays my talisman necklace pendant like in asmall window, which is funny. :)