This deep black Triple Goddess bag from Restyle is an everyday option with a gothic charm.
Cut from faux suede with structured flap-top style trimmed with the PU. 
It's embellished with a O-ring decoration and a Moon and Sun Unique Alloy Ornament.

 The flap closure opens to reveal quite roomy compartment with two pockets,
handy for storing your keys or phone.
This gothic shopper bag balances elegant charm with rebellious attitude!

-size 20 x 20 x 10 cm
-material: Suede (100% vegan)
-trim: Pu leather (100% vegan)
-internal details: black lining with two pockets
-long adjustable arm strap
-comes with Restyle branding




Users reviews
(4)
Average rating: 5.00
Rate:

This purse is amazing!!! It's absolutely gorgeous and high quality, definitely something I will be using for years to come
Rate:

This looks more beautiful in person than in the pictures, really!!! I think it's good quality and romantic, kind of sophisticated design. Thank you Restyle!!!!
Rate: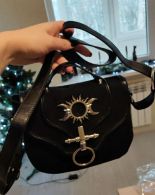 Bag is awesome! High quality, nice design. In mine arm is straped sturd, no complaints. Have been walking with it for nealy 1,5 month, nothing is torn, and it looks just perfect.
Rate:

The bag itself is very nice, but I really like that the arm strap seems very sturdy and well attached, I don't see it breaking on me any time soon.