Be stylish on every occassion with these Gothic Mesh Gloves.
Crafted from stretchy Mesh with a black flocking Fortune Teller pattern.
The design features a zodiac signs placed all over the fingers, the Crescent Moon and staring eyes.
Add a dose of drama to your every look with a Fortune Teller Gloves from Restyle.



One size fits all:
Lenght 28 cm

Users reviews
(9)
Average rating: 4.89
Rate:

Very beautiful and good price! Recommended!!!
Rate:

I love them, fit perfectly and are well crafted
Rate:

Amazing gloves, I'm in love! Velvet detailing is beautiful and they are soft to touch. Totally worth the price and recommended!
Rate: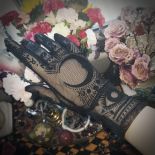 These gloves are magnificent! The mesh is soft and stretchy, however, I was expecting the celestial designs to be woven into the fabric, instead they are either glued or ironed on velveteen. This DOES NOT take away from the gloriousness that are these gloves. There is a slight scratchiness (for me), but I expect that to go away after more wear. Though the gloves are stretchy, I suggest still being careful when putting them on as to not tear the velveteen or separate it from the mesh. (This has not happened to me.) I have large, but slender hands and long nails. With my nails the finger length is just a bit too short (2 millimeters perhaps) If my nails were shorter the stretch in the fingers would be no problem. As is the length is workable even with my pointy long nails. I am so delighted that these came back in stock -- especially since I saw them online and fell head over heels for them!
Rate:

Very beautiful gloves, I love the pattern. I have long fingers and they fit perfectly.
Rate:

Very nice gloves, I wish they were touch screen friendly. But if that is not an issue for you - you will most likely love them, too
Rate:

The gloves are lovely but not very phone friendly. Aside from that it's very soft and well made!
Rate:

The gloves are really well made, the mesh is soft and not itchy at all.
Rate:

ver nice gloves they do fit because my gel nails tip of it is exactly the messurement of my fingers. Recomend these they are nice and have a lovely velvet pattern. Fast delivery and great service a+++