Black gothic blouse with a crescent and notches on the collarbones.
Mystery and courage - two words we can use to describe OVER THE MOON blouse.
Made of elegant, velvet material (100% polyester). Soft and pleasant to the touch, and stretchy and perfectly fitted.
The blouse has a turtleneck slightly covering the neck and an extra long sleeves.

An additional element is cutouts for collarbones, thanks to which you will emphasize this sensual part of the body. The cutouts are decorated with mini studs.

In the middle of the blouse, above the bust, we cut out a crescent symbol made of transparent mesh.
Our model has a tattoo there, if you don't have one, crescent will pop up even more!
Blouse with a zip at the back.
You can wear the blouse with skirts sewn from a circle or gothic pants.
| Size | Bust | Waist | Bottom | Sleeve length |
| --- | --- | --- | --- | --- |
| XS | 85 cm / 33,5 inch | 69 cm / 27,2 inch | 83 cm / 32,7 inch | 63 cm / 24,8 inch |
| S | 89 cm / 35,0 inch | 73 cm / 28,7 inch | 87 cm / 34,3 inch | 63 cm / 24,8 inch |
| M | 93 cm / 36,6 inch | 77 cm / 30,3 inch | 91 cm / 35,8 inch | 63 cm / 24,8 inch |
| L | 97 cm / 38,2 inch | 81 cm / 31,9 inch | 95 cm / 37,4 inch | 64 cm / 25,2 inch |
| XL | 101 cm / 39,8 inch | 85 cm / 33,5 inch | 99 cm / 39,0 inch | 64 cm / 25,2 inch |
| XXL | 105 cm / 41,3 inch | 89 cm / 35,0 inch | 103 cm / 40,6 inch | 64 cm / 25,2 inch |
| XXXL | 109 cm / 42,9 inch | 93 cm / 36,6 inch | 107 cm / 42,1 inch | 64 cm / 25,2 inch |
Users reviews
(8)
Average rating: 4.75
Rate:

A bit tok tight and in the shoulders (I'm a size S to M), but amazing design! All in all great product!
Rate:

I 'm 1,60, wear usuall european 36/38 and ordered size M. The sleeves are very thight and on the shoulders almost too big. Can't wear it this way. The design is beautiful that's why I want to keep it, but I have to cut the sleeves, so maybe it works as a short sleeve top.
Rate:

Amazing top with very nice details. Comfy fabric (warm) and stretchy. True to size but the sleeves. I ordered this in size S while I usually am between XS and S, I am a tall slim person and my arms are thin. Though it fits on me I agree the arms should be a bit more free (tends to be tight and slightly annoying on the arms). Besides that a perfect velvety top to match with many.
Rate: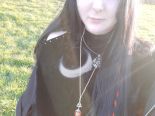 Love this Blouse because its nice and comfortable to wear. I also love the moon print. I'm very happy with my order
Rate:

It's perfect. Very gorgeous, very comfy and warm. I sized up because I like my blouses bigger in length. I agree with the other reviews: if you are going to sweat make sure you use extra deodorant because this material tends to get smelly.
Rate:

goods finally arrived GLS made several detours by the lack of interest to get my parcel in time as sceduled. Gls did appoligige but the ironic part is that the local post office for my second order arrived faster. Foor goods a+++ arrival of this order -1 thanks to gls and their issues whit the drivers they have internal. am happy whit my new piece
Rate:

Can only agree with the review above. The top looks exactly like in the pictures, for me the bra straps were not visible but I absolutely agree on the arms being kind of tight but I would not size up just because of the arms except if you have bigger arms (my arms are pretty normal I guess, my upper arms could be smaller though). The fabric is really warm and you should not wear the top on events where you tend to sweat easily. For winter it is a very beautiful top that is thin but warm at the same time and the design is just amazing. The top looks elegant itself but always depends on how you style it. Can definitely do a lot with this top!
Rate:

I am over the moon about this shirt, it is a basic piece in my closet! It feels very soft and warm. Tip: when wearing a bra underneath, choose a strapless one! Even a skin-colored bra is visible in the cutouts on the collarbone. On the other hand, if you want to add a small color accent, that is the place to be! I would not wear it when you expect sweating much. In comparison to other shirts, it smells sooner. The studded detail looks great. My usual size for shirts, Small, fits perfectly, as the size chart predicted. In my opinion the sleeves are rather small. For me it is still ok, but you can keep this in mind when choosing the size. The zipper works totally fine. I strongly recommend this shirt!