A warm coat ideal for cold days!

Made of soft micro suede lined with faux fur along the entire length and inside of the sleeves (100% polyester).

Huge hood warmed with soft, short fur and trimmed with the highest quality artificial fur with long bristles.
Black fur inside the hood absorbs the light, so you would look in it magical and mysterious, like we know you are!
All the materials used to sew the coat are vegan.

The Gothic coat's length reaches mid-thigh.

The sides of the coat are asymmetrical, elongated.


You can unzip them to make them even longer!

Gothic Jacket fastened with a metal zipper, finished with a silver crescent charm.
Warmed high neck will keep you cozy without a scarf!

 Feminine shape of the garment will

 emphasize your silhouette.

I

n the side pockets you can hide a phone or your frozen hands.



We put our whole heart into the design of the coat, so that winter is not so terrible!
And we must say that pictures don't do justice to the beauty of this coat!
| Size | Waist | Bust | Length | Sleeve length |
| --- | --- | --- | --- | --- |
| XS | 80 cm / 31,5 inch | 94 cm / 37,0 inch | 77 cm / 30,3 inch | 63 cm / 24,8 inch |
| S | 84 cm / 33,1 inch | 98 cm / 38,6 inch | 78 cm / 30,7 inch | 64 cm / 25,2 inch |
| M | 88 cm / 34,6 inch | 102 cm / 40,2 inch | 79 cm / 31,1 inch | 65 cm / 25,6 inch |
| L | 92 cm / 36,2 inch | 106 cm / 41,7 inch | 80 cm / 31,5 inch | 66 cm / 26,0 inch |
| XL | 96 cm / 37,8 inch | 110 cm / 43,3 inch | 81 cm / 31,9 inch | 67 cm / 26,4 inch |
| XXL | 100 cm / 39,4 inch | 114 cm / 44,9 inch | 82 cm / 32,3 inch | 68 cm / 26,8 inch |
| XXXL | 104 cm / 40,9 inch | 118 cm / 46,5 inch | 83 cm / 32,7 inch | 69 cm / 27,2 inch |
Users reviews
(12)
Average rating: 4.83
Rate:

Very expensive for a short coat, but beautiful...doesn't keep you warm, though...good for autumn, not for winter
Rate:

I'm very happy about this purchase. Best coeat ever
Rate:

This coat is lovely. It's true to size, and the giant hoodie is an eyecatcher. It's also very warm without being bulky, which is wonderful. The suede on the outside is very soft and I find myself petting the sides when I'm sitting down. Recommend it!
Rate:

It's a nice coat it's warm and soft, i love the nice eco fur inside the hood ! It's true to size, it will be perfect if the pokets weren't in a thin plastic material, very fragile and not warm at all.
Rate:

The coat is thinner than I thought, but are able to keep some warmth. The coat is light, soft, and comfortable to wear. The hood is big and gorgeous. I bought 1 size bigger as I like to have layers of clothes and as it can be very cold up here in the north. The moon on the zipper fell off after the second time I wore it, but it was easy to hang it back. Overall, I'm very happy and pleased with this beautiful coat. I've received a lot of compliments when I wear it.
Rate:

My favourite coat, I love it!! Looks perfect and fits well!
Rate: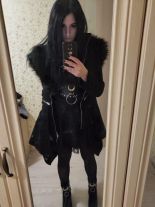 The coat is very soft, light weight and comfortable! Also it's very thin (much thinner and lighter than the Arcanum Coat!), but warm enough though. It's fit's for east european winters, but not for the temperature below -5 celsius. Unfortunately silver moon jewelry fell off from zipper when I've worn it for the first time. But it's still gorgeous though. UPD: I managed to hook the moon back into place
Rate: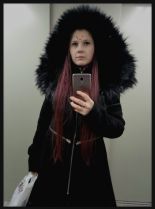 Super coat! Fits perfectly in size. I like it very much. I advise everyone.
Rate:

The perfect coat! Really warm and soft, with polar inner coat! Absolutely true to the size indication. Well fitted! Make me feel like a goddess!
Rate: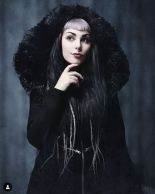 I absolutely love this coat! I agree that it is true to size! I'm 5'10" and 175 lbs and I ordered a large!
Rate:

Very happy with that, fits perfect and looks pretty! Very comfortable and warm, hoodie is gorgeous.
Rate:

I'm extremely happy with this coat! Everything was true to size and a lot more warm and comfortable than I expected!

Update Required
To play the media you will need to either update your browser to a recent version or update your
Flash plugin
.