Black Phantom Gothic Backpack with a dragon wings
Easy return of products within

90

days from the date of purchase without giving reasons
Free delivery from

$11.19
Gothic, black backpack with bat wings and dragon leather.

Mysterious, secretive, and extremely cunning. In medieval France, it was considered evil incarnate. Until now, every self-respecting film vampire can turn into it. Who might it be? Exactly, bat! It was our inspiration to create the Phantom backpack.

Gothic, small backpack (fits A4) made of artificial suede. The front is decorated with layered bat wings covered with dragon leather. The leather looks like dragon scales - it has a three-dimensional structure and reflects light.

The gothic backpack, despite its small size, can fit a lot. Equipped with numerous pockets. One with a zipper just below the flap. Another safe pocket at your back. And two more inside the backpack.

The straps of the gothic backpack are adjustable. Additionally, fastened with carabiners so that you can detach the harness and have a handbag. Suitable for casual, evening, gothic, and fantasy outfits.

Composition: artificial suede (100% polyester), artificial leather accessories (100% PU).



Size:




35x27x13 cm

Opinions about Black Phantom Gothic Backpack with a dragon wings
4.67
Number of opinions issued: 3
Click a rating to filter reviews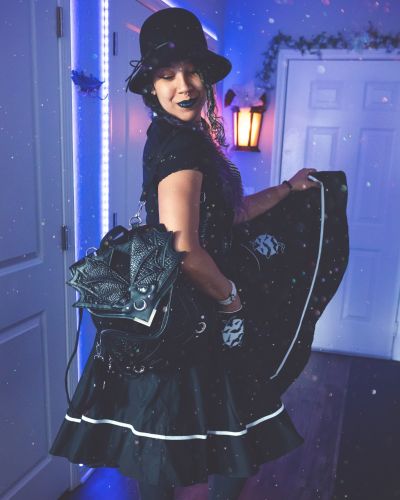 I've owned this for about a year to preface. Pros: - Seems to last with daily/weekly use with minor external wear. - Looks pretty great, matches my style, and gets complements. - A good size for my needs (medium wallet, battery pack, light jacket, gloves, charging cords, and small miscellaneous items). - Some sectioning with pockets, which are larger sized small pockets. Cons: - The front magnetic snap does not stay closed when you pick it up / hang it / exert too much energy (especially when using the top little strap/handle.) - The snaps on each side of the opening ripped out (why not use a draw string instead to tighten it? Would be safer, more adjustable, and more durable). - Those two problems together make me feel I will lose my important items. - There is sectioning with pockets, but maybe a sturdy divider in the main section would be nice. - Front pocket is kind of hard to unzip and zip. - Not a con yet, but I'm afraid the pu leather will start to crack. But so far it's okay. I looked for so long to find a backpack to fit what I needed. This was the closest I could find. I wanted a medium (not too big / not too small) size gothic backpack that was durable and useable... which is very hard to find. I hate purses and needed this as my everyday bag. I've had 5 different ones in the past, but none lasted (metal zippers never want to go closed or stay closed, or they were one compartment with no sections, or backpack straps broke pretty suddenly or they were made of literal covered cardboard). This one may not be perfect, but so much better than past experiences.