Gloves made of black cotton.

One size fits all.

Sleeves are decorated with six adjustable straps with metal buckles.
Price is for pair of sleeves (on left and right hand).

Measurements:
Length 31 cm
the widest circumference 21-30cm

Great accessory for gothic and steampunk lovers.

 
Users reviews
(12)
Average rating: 4.58
Rate:

Rate:

Very comfortable, I like them and they're good for every season. Great quality for the price!!!
Rate:

Super soft and comfortable. Perfect with a t-shirt for work to add a little bit of my style
Rate:

Like these but don't all stayed buckled up.
Rate: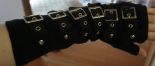 I think they look nice! The material is soft and they fit me comfortably. I find the quality good
Rate:

warm, soft and very nice, they fit like a glove ;-) fast delivery(B E) nice pirce and good customer support global its worth its money...love them a lot
Rate:

They look really cool, and they're comfy too, but the seam in the crook of both thumbs ripped wide open after only 2 uses :(
Rate:

Rate:

A bit small, but beautiful. Good quality, fast shipment!
Rate:

I like it.:) But it's a bit small for me at the top of the gloves.
Rate:

These are darlings! Sometimes I wear them with a lace glove beneath, sometimes I wear as is ... Lovely little accoutrements for so many outfits ;D
Rate:

it is cool!!! fast shipping!!! thanks!!!