Cabaret umbrella
The umbrella has an original design.
It is made of waterproof fabric in black & white stripes.
It has 16 ribs and it opens automatically.
The handle is made of black plastic.
The umbrella is very solid and hardy.
It is a great protection agains rain and very stylish accessory.
MEASUREMENTS:
Users reviews
(5)
Average rating: 5.00
Rate:

It is fantastic! Sturdy and well made and unique design! Although, I would prefer if it was made of canvas, to be a proper and only parasol
Rate:

Lovely umbrella, just as the black version. Only note is it comes with a hook handle, but I like those better any ways. :)
Rate:

This umbrella looks so awesome. True to the pictures. I can't wait to use it
Rate: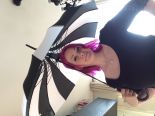 I love this umbrella. Unfortunately I haven't tested it in the rain yet but it looks so cool! Will use it as a parasol in the summer as well. I was also nicely surprised that the umbrella is quite large. Two people fit under it with ease.
Rate: