Gothic necklace and brooch in one!
Pendant is made of durable metal in antique silver colour.
It presents a large bat wings with a turquiose faceted stone.
Below is attached faceted black drop.

On the back pendant has input for chain and safety pin.
You can wear it as necklace or brooch.
The brooch will look beautifully on blouses with jabot.
You can also use it to decorate jackets, bags and hats.

Jewelry made from zinc alloy.
which means high quality and long life jewellery.

Measurements: 
Width: 8cm 
Total lenght (with drop): 11cm  
Chain lenght: 60cm 
Every jewellry in our offer is compatible with EU law
Sample of every model has been tested in laboratory.
The test result is available HERE

Users reviews
(7)
Average rating: 5.00
Rate:

This is gorgeous! I'd wear it ever day...please make another version of this with a red stone, that would look so aristocratic!! ;)
Rate:

I love it! The blue gem is amazing and very eye-catching! I originally wanted to get the black one, but then decided that the blue one would suit my blue hair better, and I was right. I got many compliments the first time I wore it with an all-black outfit.
Rate:

Rate:

I love this necklace / brooch. The stone color is lovely and the size makes it an eyecatcher.
Rate:

I ordered this one because I wanted the black one but it was sold out. After viewing some pics, I realized I like this one better. It fits nicely with my blue hair. The fact that it's also a brooch makes it even more amazing. All in all a very beautiful necklace. My favorite so far.
Rate:

Thank you very much for an awesome pendant! I have been wishing to have one just like this one for so long! Thank you, it's wonderful!
Rate: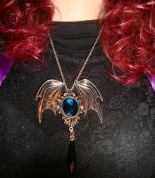 It's such a gorgeous necklace!!! Love the deep blue color of the stone!!!