Elegant gothic necklace
Made of three facted stones in purple colour,
surrounded by richly decorated frames.

On both sides additional three decorative, metal segments.
On the back fastened with adjustable chain.

All metal parts are made of zinc alloy.

Here you can see entire VIVIAN collection: CLICK 
Project: Euflonica

Measurements:
Circumference: 30-40 cm
Users reviews
(7)
Average rating: 5.00
Rate:

Wonderful choker! A dream! I love it!!! Just handle it with care as the structure seems to be delicate
Rate:

A wonderful product, both beatuiful and well fiting. I recomend!
Rate:

was worth waiting for it was out of stock, so when it arrived I was very pleased. this fits perfect whit my matching tiara :-) a++ in overal price, delivery and looks whit quality
Rate: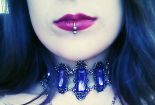 Rate:

Beautiful necklace and the quality is excellent!
Rate: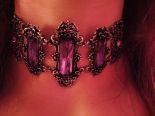 Stunning necklace. Love it so much!!!
Rate: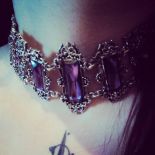 This is a very good product. The quality is so good and the price is very low. Can´t wait to buy more.