Double boned WH Brocade underbust
This hourglass underbust will give dramatic shape to your body.

Made of solid, black jacquard with floral patern.

 20 spiral bones provide comfort and fit perfectly to the body, especially in curved areas.
Those bones will not deform even after long period of wearing a corset. 
On the back are 4 flat metal bones, which provide additional support.
Because of them corset will stay in right place.
On the front there is very wide, flat bone with busk.

All Restyle curved corsets have waist tape, which serves as protection for the seams.
Each corset is lined with 100% cotton lining and the modesty panel (18 cm width)


Measurements
Measure your actual waist at it's narrowest part, minus 4-7 inches from it (10-17 cm).
Substract level depends on how much compression you want, how squishy vs firm and your experience level.
Please note: Corset that's shaped closely to your body's natural shape will season faster than one that is not.


| | | | | | | | | | |
| --- | --- | --- | --- | --- | --- | --- | --- | --- | --- |
|   | 18" | 20" | 22" | 24" | 26" | 28" | 30" | 32" | 34" |
| Front Length | 30 cm | 30 cm | 30 cm | 30 cm | 30 cm | 30 cm | 30 cm | 30 cm | 30 cm |
| Under The bust | 65 cm | 70 cm | 75 cm | 80 cm | 85 cm | 90 cm | 95 cm | 100 cm | 105 cm |
| Waist | 46 cm | 51 cm | 56 cm | 61 cm | 66 cm | 71 cm | 76 cm | 81 cm | 86 cm |
| Hips | 81 cm | 86 cm | 91 cm | 96 cm | 101 cm | 106 cm | 111 cm | 116 cm | 121 cm |
| Size | A | B | C | D | E | Under the bust | Waist | Hips |
| --- | --- | --- | --- | --- | --- | --- | --- | --- |
| 18'' | 30 | 12 | 15 | 6 | 11 | 65 | 46 | 81 |
| 20'' | 30 | 12 | 15 | 6 | 11 | 70 | 51 | 86 |
| 22'' | 30 | 12 | 15 | 6 | 11 | 75 | 56 | 91 |
| 24'' | 30 | 12 | 15 | 6 | 11 | 80 | 61 | 96 |
| 26'' | 30 | 12 | 15 | 6 | 11 | 85 | 66 | 101 |
| 28'' | 30 | 12 | 15 | 6 | 11 | 90 | 71 | 106 |
| 30'' | 30 | 12 | 15 | 6 | 11 | 95 | 76 | 111 |
| 32'' | 30 | 12 | 15 | 6 | 11 | 100 | 81 | 116 |
| 34'' | 30 | 12 | 15 | 6 | 11 | 105 | 86 | 121 |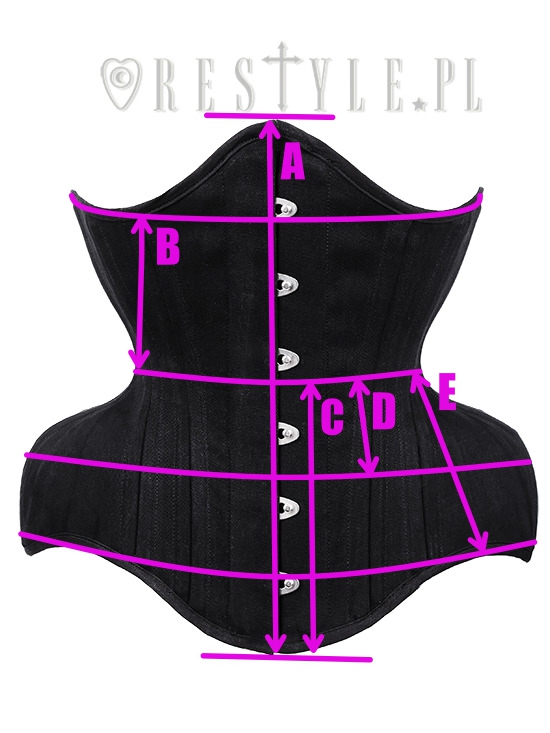 Users reviews
(25)
Average rating: 4.84
Rate:

Bought it in size 20". The quality is sooo good for the price! I loved it, so exquisite and elegant. But it was too tight in the belly area. I already knew by experience that 22" is usually too big for me as a size, so had to return this one as well. Very hard for me to find a suitable corset. Guess I'm something in between 20" and 22". Now I have found out that waist cinchers, which are shorter, are way more comfortable to me than corsets.
Rate:

A perfect corset! Highly recommend! The textures are amazing! Thank you very much(((: Love Shiri
Rate:

I ordered a 26" brocade underbust corset after hearing many positive comments about Restyle products. Shipping time from Poland to the east cost of the United States was impressive. My corset arrived in less than three weeks from the date of purchase. However, I was dismayed to find that my new corset was seriously defective. The two halves of the corset did not match in shape, and therefore both the busk and the back lacing were sharply slanted. I immediately emailed photos of the defective corset to Restyle. Customer service was prompt and polite, but Restyle was unwilling to pay for return postage. Even though the return policy states that Restyle may not require a return when photos are submitted, I was informed that I would have to return their faulty product at my expense. Since, once all postage and fees are paid, this would significantly reduce my total refund, I decided to chalk this experience up to a lesson in "buyer beware" when ordering products from overseas.
Rate:

My First Corset! And I love it! Shipping was right on spot. A day late due to MLK Jr. Holiday. Item was packaged well. I purchased a 32". I'm US 18/20; XL/xxl. My measurements are 41, 39, 51. Pear shape. The laces were just barely long enough to get the busk together. After reading other reviews, I chose the 32" rather than the 34" BC this pattern runs large and I'm squishy. My first wear was very comfy. Nice back support too. This is a great alternative to hip ties. Has a good hip shelf. It made my figure smooth and defined. I am very happy I purchased this Corset. I wish they came in more colors, but it is a goth site. Overall, the corset seems sturdy and the stitching looks good. Thanks Restyle!
Rate:

I ordered a 26" corset and was very happy with the general construction and beautiful fabric but it was seriously faulty in that the two halves of the corset were not matched for shape so the busk and back were slanted sharply diagonally rather than being vertical. It was also too small for me. I sent photos and Restyle arranged for it to be collected and returned. Restyle replaced it with the same style of corset in a 28". This too had the same fault. I emailed photos and Restyle arranged to collect it to be returned. This time I asked for a refund and this was done. I have bought a different style corset from Restyle before and have been very happy with it. However, either I was very unlucky this time or there was a faulty batch. Restyle customer service were very helpful. I was disappointed that I had to return the corsets in order to arrange an exchange and then a refund. The packaging information states that this may not necessary when photos are submitted and the fault it obvious. When I asked about this, Restyle explained that it is always necessary to return faulty corset in order to arrange an exchange or refund so the packaging information is not accurate. Having the return the corsets meant a long delay from first ordering to obtaining a refund (16 Nov - 3 Jan) and I had ordered the corset to be available for Xmas. However, as mentioned, customer service was excellent, previous purchases have been very good quality and the overall quality of this corset was very good. I loved the design, which is very flattering and well suited to my body shape. I would not hesitate to order a corset from Restyle again. If I cannot find a suitable alternative, I might well try again with this corset and hope that if there was a problem with a particular batch that it has now been resolved.
Rate:

This corset is very comfortable and creates a great shape on my short torso. I am using it for corset training and I wouldn't want any other corset than this one for the job. The bones are strong yet comfortable enough that its practical to wear it most of the day without issue. The fabric is sturdy and it overall a great product that i recommend to anyone whos interested. this is the second corset i bought from this company and I intend to buy more in the future.
Rate:

very good experience with the store and with the product itself! I had previously bought corsets from this brand, but through another Spanish distributor, and had been delighted with its good quality and especially the excellent results obtained when shaping the body, I was scared by the issue of customs and the extra charges, recently have approved in my area a law that exempts buyers from paying these fees if the order does not exceed a certain amount, and I have encouraged me to buy directly to restyle, about the attention received a 10, I made the order at the time of Halloween and gave a 10% discount, it is a detail, also comment that the order was sent the same day, very fast, they were very diligent, and shipping to Spain took about 12-13 days, very fast too , the corset is as shown in the image, with 26 steel bones, very good fit, the way it is designed and its pattern is excellent, especially for girls like me, who already have a figure of their own. hourglass, curvy, and quite hips, and this corset respects the shape of the body without damaging or pinching the hips, the visual effect is dramatic, in the style of old hollywood with tiny waists, or to put a current example very dita voon teese style, the contrast between waist and hips is amazing, very striking, if you want to draw attention choose it! about the reductive and remodeling effect, I must say that it is real, I used to use the same model in one size, when I bought it I closed it halfway, today it closes completely, so I had to buy one size less, it is true that things of fate I had a couple of kilos and I managed to lower them, but with this corset I noticed that I have formed the figure to the likeness of the corset, I have managed to see me as curvilinear inside the corse as outside, as I said before I always had a body shape that entered the standard hourglass, but with the frequent use of this corset has been accentuated and I look better, remodeled, waist narrower, abdomen more withdrawn almost flat, and hips more rounded and defined, has helped also with the typical love handles that go above the hip at the waist of the waistband, cartridge belts we usually call it in Spain, and by the shape of the corset just covers that area and compressing that extra fat of some man it was help to eliminate it, not quite, but it disguises enough, in general lines and for me it is a great purchase, for its quality, for its price (which is also excellent, a corset of this type for 50 euros, shipping included is a bargain !) and above all for the results I have obtained with it, I highly recommend it
Rate:

As male with wide hips it was difficult for me to find a well fitting corset. This corset in 26" was the right deal, fits perfectly and now my wife wants one as well. Great Quality
Rate: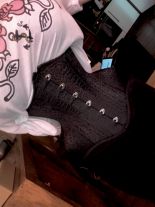 This corset gives amazing shape! I love the hip spring and conical rib. It is a very well constructed corset for the price in my opinion. It is better quality than a corset I have from a well known affordable brand which was $60. I know that improvements have been made to this model over the years (for example the addition of a waist tape, and corsets measuring to size. That's right, they no longer run large as in previous reviews!) The fashion fabric is absolutely jaw droppingly beautiful. I'm very happy to find a non-custom corset with measurements that accommodate by body and don't pinch my hips like others often do. For reference, I have the 18 inch size, which I am currently wearing with a 1-2 inch gap now that it is fully seasoned depending on how my body feels on the day. My natural measurements are 27-25-32. I would advise consulting the size guide and choosing one that matches your natural underbust and hip measurements closely - those can't really be compromised on.
Rate: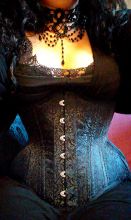 Beautiful underburst corset, well made and comfortable ! Great quality for the price, i'm very happy to got it :) I take size 26 and my mesurements are : Underbust: 85cm // Waist: 80cm // Hips: 105cm. Thanks for the customers service of Restyle who was really helpfull for choosing size :) Delivery to France take 7 days
Rate:

Well made corset, very pleased with it.
Rate: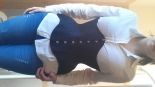 I'm really happy for this underbust. I recive it so fast and I'm so so so impress. Cheap and really high quality, I love it.
Rate:

Perfect! The only thing I didn't like about this corset was the modesty panel, but it could be easily removed. Can't wait to order this corset in more colours
Rate:

Another scrumptious piece by restyle! The fit is fantastic, the materials are chosen and constructed so that this corset is made to last. You feel as if this corset was made to measure rather than otr. If your looking for a beautiful silhouette, you have found it. The value of Restyle is amazing, even with having to ship overseas to the US. They insure that you order is safe and secure, and that your delivery is given priority status.
Rate:

El pedido llegó en tres días a casa en perfecto estado. He pedido dos tallas menos de lo que me correspondía y me va perfecto. Buena calidad en el tejido y los acabados. Una muy buena compra y buena relación calidad -precio. Hace una figura preciosa de reloj de arena y puedes definir muy bien tu cintura apretando las cintas posteriores y se ajusta en las caderas también. Consigo ese contraste tan bonito entre mis caderas y una cintura diminuta. Very nice corset. Nice fabric and well finished. Beautiful hourglass shape. I ordered two size smaller (20") It fit perfect in waist and hips. Very confortable. I can achive a tiny waist wearing the corset. Very fast shipping. Just 3 days to arrive to Spain
Rate: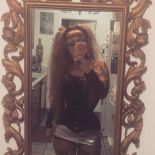 My favorite corset. Quality and beautiful. I get tons of complements. Just bought another, I love it. Also went a size down, from my usual 22" to 20". Not a big difference, only runs about an inch big.
Rate:

A beautiful, well constructed corset. I find that it runs true to size and it is very comfortable as well. The flat laces are very practical and ensures easy lacing. You get a lot for your money with this corset!
Rate:

This corset is so beautiful! It makes a perfect hourglass shape! Really gorgeous corset, great fabric.
Rate:

I've had mine for about a week now and still in love with it. I've had some weight gain in the last few months so probably ordered a size smaller than I should have (ordered a 22 probably should have gotten the 24 instead), but regardless it's super comfortable even though I'm fairly widely laced right now. I think so far this is the most comfortable otr corset I have purchased and despite having a longer busk I feel more mobile in this corset than my older well broken in corsets. I can't wait for my second restyle corset to arrive in the next week or so!
Rate:

I spent ~$80 CAD inclusive on this corset and I'm feeling like it is one of the better deals out there. I ordered a 20" which fit comfortably (37-28-37 are about my measurements; 30 is my underbust and I have a hip spiral of about 10 so this was a good size for me). Do order one size down (according to the charts, I should've ordered a 22"). I received this in about 2 weeks which is excellent for international shipping. The material and detailing is gorgeous.
Rate:

Love this corset. Very sturdy . It gives me the shape that no other off the rack corset that i have does. I mesure the inside and it's true to the size not like a few reviews that i read saying it's a few inches bigger. I do recommend for waist training. I'm waiting for the black matt get back in stock so i can get that one as well.
Rate:

Over all I'm quite pleased but i did have a couple issues I'll talk about. Busk: inch wide. Stiff and sturdy. Knobs are a bit big for the loops but it's ok. Modesty Panel: 6 inch unstiffened modesty panel and a half inch front modesty placket. Both are inn the same fabric as the fashion fabric. Fabric: Very pretty fabric. No real issues but on the top right grommet some white fabric was sticking out. Dont know why though. Has a visible waist tape. Stitching: No visible issues. Binding looks nice as feels smoothe. Laces: Flat, semi-stretchy shoelace style. No complaints. Grommets: One grommet was completely deformed and had to be fixed as it was trying to tear the laces. The rest had small splits but they did not catch so they're fine. Shipping: Fast and cheap. However, they failed to include the state it was sent to and it got stuck in customs. Package was torn up as well but i think the post office did that. Customer Service: Not bad, although they told me not including the state would not be a problem. While going to verify the package was not a big deal I shouldnt have had to. But like I said I'm satisfied over all. The quality was good for the price and it looks good on.
Rate: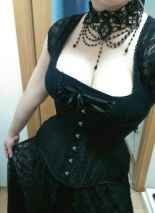 I love this corset. It will give you nice curves even if you have slim hips. I bought one size smaller than I usually buy and it turned out to be a good choice. You can wear it very tight an yet very comfortable! There is just little bit too much space in the hip parts, could be little bit more flat for more natural look. Oherwise very nice and high quality corset!