Gothic headband with Horns
Wide headband adorned with black horns.
They are made of very durable material,
and very firmly attached to the headband.
Horns inspired by Maleficent character.
with very detailed line texture, ended with claws.

Horns are made from our unique mould
antlers project: Euflonica

Perfect accesory for every gothic or alternative style
One size fits all!
Height of the antlers: 10 cm
Every headpiece comes with a brand box.

Users reviews
(5)
Average rating: 4.80
Rate:

It's great! I feel like a Queen! A +++
Rate:

This is my first headband of yours, and it will not be the only one. I have a small head, so the headband suits me perfectly, the horns are perfect (when I am not using them, I store them in the box, because I don't want them to lose their pointiness). Probably the nest one will be the antlers with the flowers (you know I want -need- to have each one!!)
Rate:

Great quality and pretty! Have been wearing them at different events for a while and they're comfortable, too!
Rate: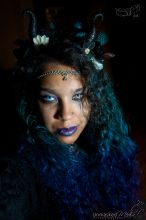 The product is better quality than any horns I've thought about getting, especially considering Maleficent inspired ones. The horns themselves seem like good quality. The headband seems to spread out the heaviness of the horns when on (don't lean back though), making it more comfortable (I haven't worn it for long periods). It is plastic though, I try to be careful because I'm worried it may be easily snapped? I'm not sure if there's a way to make it stronger by adding something. I wanted to get the one with flowers because I felt the horns would look more elegant instead of just being there, so to speak. But all of the horned headbands have been out of stock and finally there these ones came back in stock for a-bit, so I just went ahead and got them. When I put them on, they were very prominent. So I did a craft day of putting on 4 black roses, some feathers, and stylistic small flowers with wire. so it didn't ruin the headband. It looks more a part of me and my outfits now. It's unique, and one of a kind, but it cost more to craft instead of buying it with flowers and adding small detail. If everything is in stock, and you're debating on what to get, I'd suggest the one with flowers if you're not planning on hiding the headband with a hairstyle or crafty stuff (and I even have fluffy hair). Also, purchased to be sent to Colorado in the US. I've had problems with it taking weeks during the holiday season. But ordering in April, it came way faster than usual or expected which was pleasant. Overall, I really like them and plan on getting the orchid deer ones when they become available again (at the same time I have funds).
Rate:

Très originale, bonne qualité , très jolie !