Gothic hairpiece with antlers
The wide headband adorned with black deer antlers.
Horns are made of very durable material.
They are very firmly attached to the headband.
Antlers are very detailed with a rough texture,
perfectly reflects the real antlers.

Horns are made from our unique mould
antlers project: Euflonica


Headband is also adorned with eight, black roses
and five chains with black beads.

Perfect accesory for every gothic or alternative style
One size fits all!
Height of the antlers: 10 cm
Every headpiece comes with a brand box.

Users reviews
(15)
Average rating: 5.00
Rate:

Lovely and makes a statement. The only thing is that the structure of the headband is quite fragile, so handle it with care! Else, fair price for the quality! Please make more of these hair accessories, like why don't you start making proper crowns and tiaras? That would be amazing, just a suggestion from a customer!
Rate:

Very beautiful product, although I think the chains are too short. Great quality of the antlers and roses, I'm so happy with this headpiece! The box is great and perfect for storage.
Rate:

Doesn't give you a headache, is very flattering, beads don't hang down too low, and the horns are very secure.
Rate: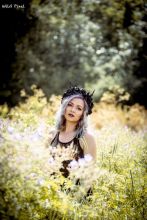 love it! wore it to a shooting and it was fabulous!
Rate:

totally happy with it! it was out of stock for a while, so I ordered it when I saw it back in stock directly! love how it fits, not heavy, very elegant. great price and fast shipping.
Rate:

This is the most beautiful and confortable hairband that I have ever had! The chains are a lil too long, but I love it anyway. Thanks
Rate: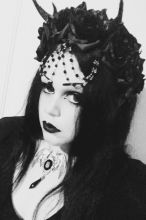 The headband is gorgeous and well done! It's very lightweight so it's not too heavy on the head, but looks absolutely great and wonderfully detailed! The only problem is that the chains are too long and almost reach my eyes, in most pictures they are shorter... I'll find a solution to that :)
Rate:

It really looks amazing! The little chains are a bit short, but the flower headband and the horns are incredible quality and surprisingly comfortable. Beautiful accessory to have in your closet!
Rate:

Rate:

Amazing headpiece, it looks super good on, great quality!
Rate: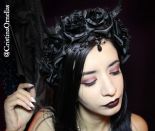 Absolutly beautful ! Super comfortable, it got here in perfect shape and i would totally recomend to everyone looking for a pretty yet affordable statement piece !
Rate:

Great product, not too heavy, so it won't slip from your head. Very beautiful and elegant.
Rate: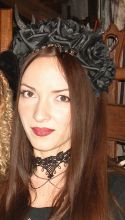 Отличный ободок, быстрая доставка, все понравилось.