"Phosphorus Bone" Necklace
Necklace presents alchemical symbols made of bones. All bones elements are threedimensional.
Entire necklace is connected with chain which creates really unique design. Jewellery is in antique silver color with grunge texture.
This occult necklace will look marvelous with black fashion clothes.
Project Euflonica
Measurements:
high of main element 6 cm
total chain lenght 70-80 cm
Every piece of Restyle jewellery is compatible with EU law and it's safe for your skin.
Users reviews
(12)
Average rating: 4.83
Rate: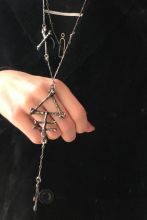 It's pretty sturdy and the main pieces are fairly heavy (the whole thing is 37g if anyone's interested). I like it tho mine arrived with the middle upper cross being attached incorrectly so it doesn't really sit in the center and the chain can tangle fairly easily but it's not really problematic, can just be a little rough on the neck. Anyways you pretty much get what's pictured, i recommend it tho worth noting that it's longer than it looks in the stock photos
Rate:

This reminds me of medieval Christian iconography...with that slightly macabre elegance...perfect. Stunning. Love it.
Rate:

Great necklace for witchy vibe! Love it!
Rate:

The necklace looks great. It just oxidizes rather fast like most of the items.
Rate:

Oby jak najwięcej rzeczy w tym stylu pojawiało się w sklepie - jest świetny. Idealny dodatek do prostych, czarnych ubrań. Układa się jak na zdjęciach. Polecam!
Rate:

It's really nice and I love it! Long and quite big
Rate:

I usually don't like necklaces on me, but this one feels and looks like a great add to your outfit and makes a cool statement. Item delivered as pictured and in time, also best price.
Rate:

Great necklace for witchy vibe
Rate:

It's beautiful and I love it please make more similar items
Rate:

Rate:

This is such a great necklace! Even though it came broken, it's still a lovely piece.