"Branch Pentagram" Necklace
Necklace presents pentagram made of branches. Pendant is two-sided.
Entire necklace is connected with chain which creates really unique design. Jewellery is in antique silver color with grunge texture.
This occult necklace will look marvelous with black fashion clothes.
Project Euflonica
Measurements:
high of main element 5 cm
total chain lenght 70-80 cm
Every piece of Restyle jewellery is compatible with EU law and it's safe for your skin.
Users reviews
(9)
Average rating: 5.00
Rate:

Beautiful and good quality. I really recomend it !!
Rate:

Just amazing! Go for it! The quality is very good for the price!
Rate:

Usually, I don't like long necklaces, but this one is really stunning ! I like the design so much ! That so witchy.
Rate:

I love the long chain length! This necklace is beautiful and looks great with any outfit. The length of the chain makes it not interfere with necklines and is a great option for jewelry layering as well.
Rate: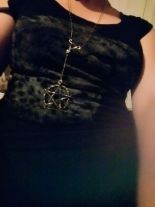 It definitely hangs pretty low but it feels quite comfortable and sturdy and the witchy branch pentagram itself is detailed and really gorgeous.
Rate:

I love it, this necklace is just beautiful!
Rate:

I usually don't like necklaces this long, but I absolutely love this one. The necklace is lightweight, seems durable and has nice details.
Rate:

Very long! The detailing is amazing.