"Occult Moth" Barrette
Occult moth hairclip adorned with symbols like: pentagram, moon, skull and geometry.
Black parts are filled with matte mass, which contrast beautifully with rest of the hairclip.
Moth is placed on circle and triangle, below is little crescent moon. 
Projekt Euflonica
Measurements:
width 12 cm
high 7 cm  


Every jewellry in our offer is compatible with EU law
Sample of every model has been tested in laboratory.
The test result is available HERE

Users reviews
(10)
Average rating: 5.00
Rate:

Sooo beautiful and unique!! It's quite heavy but stayed in place perfectly all day, love it
Rate:

Amazing design! Stunning for the price!
Rate:

absolutely stunning!! i own two! highly recommend!!
Rate:

A little bit heavy but so lovely! Huge and beautiful
Rate:

very nice hair clip, nice and big. details are very lovely on this moth. A+++ delivery a+++ wrapping+a+++ price wise excellent. this is heavy but when placed above the rubberband for the ponytail it stays firmly(have thin hair). In wigs really a nice item for pimping your wig up for cosplay off course a real asset.
Rate:

Im so in love with this. It's huuuuuge but so beautiful :)
Rate:

Its a little heavy but i love it! The detailing is so pretty and its one of my fave jewlery pieces!
Rate: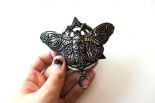 The details are amazing. It is a bit heavy because it have a lot of things, but I like that :) I will wear it everytime I can! 10/10
Rate:

It's kinda heavy but it's gooorgeous! I am in love with it.Very good quality