Moon Textured Earrings
Earrings presents big crescents with moon texture. Antique silver colour.
Project Euflonica
Measurements:
high of cross 5 cm
weight of one earring 9 g 
Every piece of Restyle jewellery is compatible with EU law and it's safe for your skin.
Users reviews
(12)
Average rating: 4.92
Rate: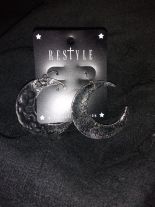 They did a great job on these earrings, and it was very hard to choose between the silver ones and black ones. (Definitely getting the black ones at some point) I chose silver this time because I enjoyed the texture that was shown when the moon light catches it. I didn't see any technical difficulties with the earrings, and inspected them closely. They have some weight to them, but not too heavy. I tend to enjoy the slight weight in jewelry. Overall they are very balanced and well made. (A picture of them front and back) On another note the shipping was horrid, but it wasn't due to this company it is because of what is going on in the world. It took a month to get here. (Payed order on December) So keep that in mind when you get your order done. (shipping from Poland to USA)
Rate:

Rate:

These are huge and very popular at the moment...perhaps, a bit too popular for my tastes...but still the quality is nice and the scratch/moon effect is well made ! Just, they are quite heavy
Rate:

beautiful! a lil bit heavy, comfortable to wear several hours, not all day long. so detailed, wonderful texture
Rate:

The earrings are fantastic. I really like the texture. The weight is acceptable for almost 4-5 hours, later they become a bit heavy
Rate:

Very light and totally detailled, I love them! Perfect Restyle-quality. Thank you
Rate: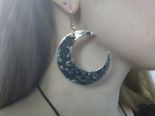 The earrings are light so you can wear them all day long. The quality is high, the backs are tight. They look wonderful!
Rate:

These are quite large! A bit heavy too, so keep that in mind.. also they can get caught on scarves or people's hair when hugging them, haha! Still amazing and witchy.
Rate:

very cool and quality thing, never seen anything like it. laconic and at the same time, the detailed design of these earrings makes them a unique accessory that will complement any of your image. I am very happy with this purchase! thank you!
Rate:

I love first and foremost the fast delivery and the design of these is quite heavy but I love the shape and the service is impeccable. Thank you, restyle.pl Fleury Rose, Netherlands
Rate:

Beautiful earrings! Not as large as they appear to be on the mannequin - the mannequin is small. But they are actually the perfect size! Surprisingly very lightweight and they don't weigh down my ears, nor are they uncomfortable to wear. Love my Restyle crescent moon earrings! :)