Moon Textured pendant
Pendant presents big crescents with moon texture. Antique silver colour.
Project Euflonica
Measurements:
high 8 cm
chain lenght 60-70 cm
Every piece of Restyle jewellery is compatible with EU law and it's safe for your skin.
Users reviews
(10)
Average rating: 5.00
Rate: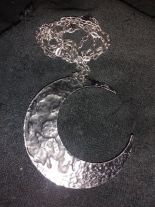 I absolutely adore this cresent moon necklace! I tend to be picky with how moons look, and this one was the one I seen and instantly fell in love with the look. This necklace has a little weight to it, but of course I tend to enjoy weighted jewelry. I was again having a hard time choosing either silver or black. (I will get black sometime later because it is beautiful too) Ultimately I choose silver because of the texture and you can see it more on the silver one. I don't think you could lose choosing either one, they are stunning pieces that you should definitely get. The packaging was quite nice too, they made sure nothing would break and wrapped them with black bubble wrap. Side note the shipping was horrid (been one month) but it isn't the companies fault. Due to what is going on in the world it is going to take longer (from Poland to USA)
Rate:

Bigger than what I was expecting; I LOVE it!
Rate:

I love this necklace, the moon is huge, a bit bigger than expected, but it's great :)
Rate:

Absolutely the best necklace I have ever had. The texture is really awesome and also the dimension is great!
Rate:

This necklace is awsome! :D I already owned a crescent moon necklace (the one from Killstar), but when I saw this one with the texture on it, I was sold. Totally worth it c:
Rate:

Is beautiful. It looks great if you combine it with black basic clothes to give it a personal touch
Rate:

I love this necklace. it's a bit bigger than I thought but that was what I was hoping for, so this purchase is a win in my book! it's a nice statement piece so the chain is the perfect length for me. this was $20 well spent on something that will most likely last forever.
Rate: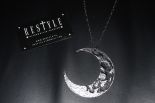 I absolutely adore this pendant and soon as I saw it, I knew I had to get it and I am glad I did as it seems to be sold out right now. The necklace itself is quite simple but it makes great center piece for your outfit. The only complaint I really have is about the cheap chain used on it but luckily that is easy to change. :)
Rate:

This necklace is super cool! It's quite heavy (as seems to be the case with most jewellery from this site), which does not bother me too much when wearing it. And I can potentially even defend myself with it as a weapon! ;) The pattern is different on both sides, but equally pretty, the necklace seems sturdy and is just the right length for such a big piece of jewellery :)
Rate:

It is really beautiful. Very simple but really charming in it's own way. It has very long chain though but it isn't a problem for me.