Full Moon Necklace
Necklace presents moon phases carved in alloy. In the ceneter there is a graphic of a moon underneath the magnifying glass.
Crescents are conected with geometry figures. All is linked with long chain which creates unique design.
 Moon Jewellery in antique silver colour.
Project Euflonica
Measurements:
size of moon cabochon 3 cm
high of main  element 11 cm
lenght of chains 60-70


Every jewellry in our offer is compatible with EU law
Sample of every model has been tested in laboratory.
The test result is available HERE

Users reviews
(19)
Average rating: 5.00
Rate:

Beautiful Necklace, I love it!
Rate:

It's just as beautifull irl as picture shows
Rate:

I'm in love! It's just perfect
Rate:

I love long necklaces and this is the one I love most; the elements and so well put together, it is simply gorgeous!
Rate:

nice necklace perfect for any wicca occasion nice price and fast delivery a+++
Rate:

Absolutely perfect, I already weared it many times in these days and received many appreciations. I was searching for a necklace to sport with simple and plain black clothes and look great and goth anyway. It can make the outfit itself! Fast shipping and delivery.
Rate:

Love it! The design is beautiful and elegant.
Rate:

This is my new favourite necklace! It makes every outfit into something special. I have the moon hair clip too, so I like to wear them together. I always get many compliments about them. :)
Rate:

The necklace is gorgeous! The perfect accessory for a black dress, it turns a simple clothes into a awesome look!
Rate:

I love this necklace and I look forward to wearing it more often.
Rate:

One of my favorite necklaces to wear since I can coordinate it with so many different outfits. It adds quite a nice touch to any plain black top or dress.
Rate:

this necklace is beautifull! whit a simple black shirt or a simple black dress,the necklace become the focal point of the outfit! Elegant and whimsical at the same time,i am very satisfied,as always when i buy restyle!!!! Alberta
Rate: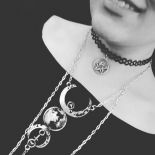 Love it! I was afraid I would find it too big once it arrived, but once I put it on, I had no more worries about it! Beautiful, beautiful, beautiful!
Rate: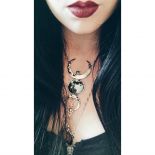 AMAZING Most beautiful necklace ever, absolutely!
Rate:

The most beautiful necklace ever!
Rate:

Rate:

Rate:

I this necklace is wonderful!
Rate: