Moon Phases Necklace
Necklace presents moon phases carved in alloy with strong texture. All connected with long chain.
Moon jewellery in antique silver colour. It will look marvelous with long, black dresses.
Project Euflonica
Measurements:
high of each moon element 5 cm, 3 cm, 3cm
circumference 80-90 cm
Every piece of Restyle jewellery is compatible with EU law and it's safe for your skin.
Users reviews
(21)
Average rating: 4.67
Rate: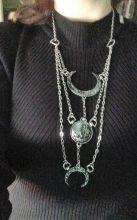 It's sooo beautiful!!, it's a Little heavy and very good quality
Rate:

Very nice and I think I will be able to use it with multiple styles.
Rate: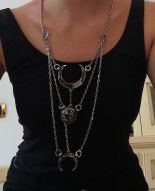 Rate:

An extremely pretty necklace! Looks just like the picture! It's weighted which I love and very solid! The moon phases are really captured into the jewellery!
Rate:

The necklace is awesome but seems that the length of chains is not perfectly balanced. In any case I love this item
Rate:

Beautiful necklace! Looks exactly like the picture. Couldn't be happier with this purchase!
Rate:

This is a beautiful piece of statement jewelry. I wear it with high neck dresses or tops. It's also perfect for Lolita. I always come back to Restyle!
Rate:

The perfect match for my witch student character for collage of wizardry in poland. And now its an all time and daily favourite of mine :)
Rate:

Such a great statement necklace, great for making a minimalist outfit more interesting. Chains by restyle are always high quality and sturdy with easily attached clasps, overall very happy with this buy :)
Rate:

Amazing necklace! Though it drapes a little bit long and can get twisted about, but you can try and attempt to clip the clasp along the chain to shorten.
Rate:

Le collier est magnifique
Rate:

While it's really good quality it's an awkward length which makes the chains drape weirdly and it tangles on itself. The chains on the necklace I recieved appear to be much longer than those in the necklace pictured. Great item for posing for pictures, but I can't see myself actually wearing this out and about.
Rate: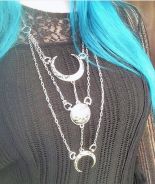 Rate: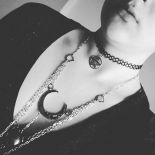 Amazing piece! I love it, it's very nice and heavy and good quality. The only part that's not fabulous is that the chains to the bottom moon seem too long, so the little D-rings on it tend to twist either to behind the moon or over it.
Rate:

Very beautiful and suits with a lot of tops. The only con is that it tangles up very often, but that's ok :)
Rate:

Great necklace,this purchase was a very nice addiction to my wardrobe. Thank You! A+++
Rate:

Amazing! Love it, good quality, arrived super fast.
Rate: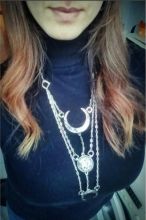 I love it! It arrived very fast and it looks lovely! :)
Rate:

So beautiful, so eyechatching. As a werewolf fan this pendant made my heart howl, but it'll be a hit for witchy folks too! Quality is above and beyond!
Rate: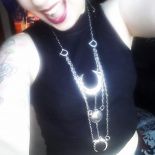 This necklace is amazing, I love using it with a sleeveless high neck black top, it is just amazing!