"OUIJA BOARD CURSOR" ring
Ring presents cursor from spirit board QUIJA.
It's filled with black, matte mass which contrast beautifully with silver elements.
 The same black filling is on the ring where are words "YES" and "NO" placed on opposite sides of the ring.
Project Euflonica
Size:
Three sizes available: 16mm, 17mm, 18mm (inner circumference of the ring)
High of main element: 3 cm
Every piece of Restyle jewellery is compatible with EU law and it's safe for your skin.
Users reviews
(21)
Average rating: 4.71
Rate:

I like it so much! Bought it some time ago, what a pity it's starting tarnishing now...
Rate: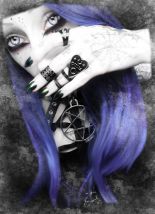 a bit small but i love this one
Rate:

a++ring is slightly to big for my finger, the other fingers I dont fit the ring on then its to small . My fingers are very small but only ringfinger fits it but there its slightly to big. (will bypass this whit a piece of string over my gloves it fits like a glove ;-)
Rate:

I love Restyle and it will always be one of my favorite stores but this is the only item that has disappointed me from all (many) purchases. The sizing and design are on point, but the quality is not. The black paint fades easily and the silver parts became rusty-pink after wearing for the very first time. I covered it in transparent varnish but it doesn't prevent the ring from getting more and more "rusty". I stopped wearing it cause it left my finger totally green and I couldn't get rid of that color in a few days. It's a pity cause I really love this ring.
Rate: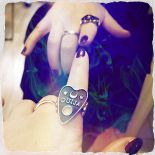 I Love my new ring! Very beautiful and comfortable
Rate:

Rate:

These rings are super cute. I wish they came in a size larger than 18! The black paint seems a bit delicate.
Rate:

Beautiful ring, too bad there aren't any smaller sizes. It also stained my finger, and the silver-colored parts on the sides of the ring are already starting to turn into an ugly copper color... I will put clear nail polish on top of it, but still, it's kind of a shame.
Rate:

Rate:

Rate:

I absolutely love this ring! I've wanted it for a while now but every time I went to purchase it, it was already out of stock. BUT NOW I HAVE ONE AND I'M SO HAPPY! If you're thinking of buying one, measure the DIAMETER of a ring that fits, not the circumference.
Rate: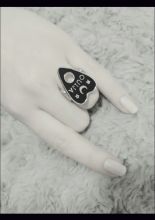 I do love my new witchy ring. It's very confortable and the design is just perfect for me! Thank you Restyle!
Rate:

I love this ring, but it's slightly too big, but I can work it, that is the result of having mini fingers :v
Rate:

Wonderful design. I absolutely love the details on this ring. I have very slim fingers but ordered a size 17 (golden middle) in fear that the other one would be too small. My fear has been redundant, it seems. The size 17 fits on my thumb and index finger, and loosely on the middle finger. So, if you have slender fingers, choose size 16!
Rate:

very good quality, so beautiful, original, i love very well !
Rate:

I also wish for smaller than 16, but it's a great ring. I wear it on my middle finger, and I like the way that looks. A bit "longer" than I expected, but looks amazing. Just make sure you don't have stubby fingers, or it might overlap your knuckle some. Those with longer fingers will look best. It will discolor your finger, but adding clear nail polish to it or any of the other methods will stop that. Not nearly as bad as many cheap rings I've had, but evident a lil at the end of the first day wearing it. Nice fit, nice shape, well painted.
Rate:

This is a gorgeous ring. The only thing annoying is that there is no smaller size than 16, so it's a little too big for me, but I will add some felt under the ring.
Rate:

Its A Lovely Ring, I Adore the Style Of It A lot. I Just Wish I Meassured My Finger Better Before Buying The One I "Thought" I Had. Either Way, Will Surely Buy More Rings From Restyle!