Moon Child Hobo bag



 Made of solid, black velvet and faux leather decorations.


In the center of the bag there is a moon phases embroidery with MOON CHILD phrase.
It's surrounded with faux leather straps with rivets decoration. Straps create interesting geometry on the sides of the bag.
Bag comes with long, adjustable arm strap entirely covered with moon phases embroidery (120 cm!).
It's really eye catching and you can wear it with other bags, because it's detachable!
 Inside there is black ,soft lining with two pockets. Big zipped one and other smaller one.
There is also one more pocket on the back of the bag.
Original Restyle design with our branding.

Project: Euflonica



Size:




High: 28 cm




Lenght: 44 cm




Lenght of the moon phases arm strap: 120 cm



colour

:

black

wymiar

:

39cm

,

40cm

,

11cm



Users reviews
(24)
Average rating: 4.96
Rate:

This is gorgeous because it's capacious and beautiful at the same time! Very convenient to carry around your stuff during the day, and delicate-looking for the velvet! I totally recommend it!!!
Rate:

I love this bag! it's beautiful, comfortable, roomy, has more than one pocket - hope to have it for many years!
Rate:

This bag is really nice and very wide! It's really comfortable! Thank you so much
Rate:

Its HUGE! The bag is way bigger in real life, I could easily fit my cat in it! It was a very pleasant surprise! I look forward to using it, it will be so useful come wintertime! I can fit gloves, earmuffs and a scarf in here along with my other items no problem!! Its very well made. No loose threads or anything, it seems to be decently sturdy too. I cannot wait to strut it around my city!
Rate:

I love big bags and this is a bag that you can use for your every day routine and everything will fit. I love that Restyle bag all have a little pocket outside, it is perfect for putting all the keys that I need to carry with me.
Rate:

I love my bag and every time someone sees it they love it also but my only complaint is that the stitching was sloppy and there was thread sticking out all over the place. I fixed the issue myself but i shouldn't have had too.. This is still one of my favorite bags regardless.
Rate:

This bag is really cool ! It's huge, it has a lot of pockets. I love the velvet, and the shoulder strap makes it really comfy to wear.
Rate:

I am amazed with the quality of this bag. It looks even more beautiful in person than it does in pictures ! The embroidery is killer ! Gorgeous!!!There's a lot of room inside the bag which is a plus. Love love love this!
Rate: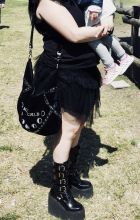 I have so many bags but this is my favourite.
Rate:

I love this bag. The strap on mine was unfortunetly faulty, but the shop shipped a new one for me and I recceived it soon after. Thanks for good service :)
Rate:

Very happy with the quality of the bag. Quite spacious too.
Rate:

this bag is wonderful! I am very happy about the purchase
Rate:

Beautiful bag! I love the fabric and the design. It can get a bit heavy and painful on the shoulder when full, but aside from that, it's perfect not only for everyday use, but also for more special occasions.
Rate:

I'm so happy with this bag and use it all the time. It is laid back and fancy at the same time. I was worried that the velvet fabric would catch a lot of cat hairs but it does not. :)
Rate:

I got my bag today in the mail. I absolutely love it! It's big. I love the detail on the front and the strap. I definitely would order this item again.
Rate:

I am so damn picky when it comes to buying bags but when I saw this stunning bag I was sold and it did not disappoint when it shoved up in the mail. The quality is top notch and size is perfect for someone who carries around a lot when out or like me who's a student and need a bag that can hold a laptop. With out a doubt the best bag I've ever owned!
Rate:

This bag is very beautiful and commodious. I'm very glad. And this lettering "Moonchild" like song of Fields of the Nephilim)
Rate:

I use this bag all the time. I absolutely love it, the velvet is amazing, there's so much space in the bag and love the extra pockets! However, the metal clasp broke on me one day, and it was extremely awkward to bring my bag around in my hands all day! I had to change the clasp. Apart from that, the bag is amazing.
Rate:

I looove this bag so much. The quality is incredible and there is so much space in it. The velvet is also very soft and the details are well made.
Rate:

I use this bag all the time every since I got it! I usually don't like the feel of velvet but this one is perfect and it's very nicely done! The space inside the bag is enormous and it has tons of tiny places to but my stuff. Fast shipping and great product!
Rate:

I love this bag soo much *.* the velvet is so nice . My favourite Bag from Restyle
Rate: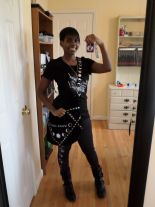 I love this bag!! It's really cute, spacious, and you can see the phases on the strap from the front and back no matter how you wear it! Plus the velvet keeps it from slipping off my shoulders. I also appreciate that it really is black, not off-black.
Rate:

My wife uses it all the time and she is very happy with it. It is a very spacious wee bag ;) There's a lot of space for everything. EVERYTHING! Great bag.
Rate:

awesome bag, at first i was unsure about the velvet(too delicate maybe) but it is really well made(even under a heavy rain) the embroidery is really beautiful the bag is really big, i usually carry with me so many things, but it's always seems empty... i highly recommend this item and the service that this site offer(really fast shipping & everything)