"Moon Geometry" Hair Barette
In the centre of the hairclip there is a full moon graphic under the magnifying glass.
Entire hairclip is covered with geometry pattern with moon phases on the sides.
Hairclip is filled with black, matte mass which contrast  beautifully with silver elements.
 Hairclip has automatically clip (french barette).
Project Euflonica
Measurements:
Lenght 12,5 cm 
High of main element 5cm
Every Restyle jewellery piece is compatible with EU law and it's safe for your skin.
Users reviews
(12)
Average rating: 4.83
Rate:

Fantastic design! Where else could you find it?!!
Rate:

It was a bit large for me and, as other reviews state, the colour of the moon is greenish. It is still a beautiful hairclip but not exactly what I was looking for so I returned it without any problems.
Rate:

Really love this hair clip!
Rate:

Rate:

Very original, so proud to wear it. Excellent quality, as usual :)
Rate: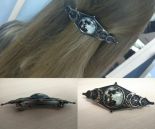 I fell in love with this hairclip. Yes, it does slide down not very thick hair but the clip itself is EXTREMELY tight. I love the quality and this huge MOON! PERFECT!
Rate:

Very large! Found it a little bit heavy that it kept sliding down my hair. Moon does have a slight green tinge to it than a blue/grey.
Rate: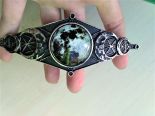 Todo perfecto, buena calidad, envío a España bastante rápido. Buena calidad de los detalles, es un poco pesado pero no se nota mucho puesto. Abre y cierra con facilidad y queda muy bonito y sujeto. La luna se ve preciosa y el resto tiene aspecto desgastado, una preciosidad.
Rate:

I've purchased both the hair clip and the necklace of the same style and they are beautiful. That's my new favorite hair clip.
Rate:

Its beautiful and it actually STAYS in my thin, fine hair! I love that it matches the cuff and necklace I got from ReStyle as well :)
Rate: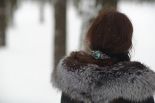 Rate:

Incredibly lovely hairclip. The moon has a slightly green tone to it, but is gorgeous! Super happy with it!