"Moon Geometry" Choker
In the centre of the choker there is a full moon graphic under the magnifying glass.
It is surrounded by geometric frame with crescents. On the sides there are segments with similar decorations.
On the bottom there is another geometry element. Choker conected with black chains.
Entire bangle is covered with geometry pattern with moon phases on the sides.
Entire necklace is filled with black, matte mass which contrast  beautifully with silver elements.
 Choker is adjustable. One size fits all.
Project Euflonica 
Restyle's unique jewellery design with the original branding.
Measurements:
Circumference 25-45 cm 
High of main element 5cm

Every Restyle jewellery piece is compatible with EU law and it's safe for your skin.
Users reviews
(16)
Average rating: 4.94
Rate:

Rate:

My favourite chocker, I love it!
Rate:

Love it! Can't wait to show it off
Rate:

SOOO PERFECT! This thing is huge, much bigger than I thought it would be but its soo pretty, it looks like the midnight sky around my neck. My only complaint is that its so big it sometimes pokes into my neck a little too much but you can loosen it if it does that. Still super cute though.
Rate: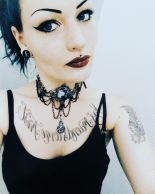 a beautiful and eyecatching choker! many people compliments me for this. a part of the lock chain was broken but that could be easily repaired.
Rate:

I love it. It looks great with the Silver Swords earrings as well! It needed some quick tweaking with tongs because a chain got loose during the long trip from Poland to the Low Lands, but that was easily fixed. It is simply beautiful and definitely good value for money.
Rate:

Just as beautiful as pictured. It falls very nicely on the neck. I was worried because sometimes chokers look bizarre when they're not made right, but this looks perfect! I love it.
Rate:

Such a gorgeous statement choker! Fits my thin neck quite well, though the moon is more greenish tinged than blue/grey it doesn't take away from it at all!
Rate:

I have a huge collection of necklaces and this one is in my top 3. The quality is amazing and I wore it immediately when I got it on the mail. Can't wait to get the moth one too.
Rate:

This is my new favorite choker.
Rate:

It was perfect! This was my first order from Restyle but I will totally order again. I couldn't believe the quality could be this good because of the low price but IT WAS PERFECT! :)
Rate:

love mine cant wait to wear it just as gorgeous as the picture
Rate:

Rate:

Great quality and not heavy at all! It looks amazing!
Rate:

i am love with it and is just perfect