CU7 sturdy, extreme shaping underbust

Restyle corset in new CU shape with extra room for ribs and big compression on waist which gives dramatic curve to any figure.
This prevents the pressure on the ribs and hip bones and creates amazing hourglass shape corset.
During wearing this corset you will never reach the point where you experience pain, or be so tight that you cannot breathe properly.

Fashion fabric made of strong, matte cotton in black color.
Every corset is lined with 100% cotton lining and have a modesty panel.
All of of Restyle hourglass corsets have waist tape, which serves as protection for the seams. 
18 spiral bones provide comfort and fit perfectly to the body, especially in curved areas.
Those bones will not deform even after long period of wearing a corset.

On front there are flat bones with five parts busk.
On the back there are four flat, steel bones which provide additional support for the binding.
Because of them corset will stay in right place.
Corset design: Restyle

Size:
Measure your actual waist at it's narrowest part, subtract 4-7 inches from it (10-17 cm).
Substract level depends on how much compression you want, how squishy vs firm and your experience level. 
Please note: Corset which is shaped closely to your body's natural shape will season faster that one is not.
More infor about our corsets here: CORSETS



| | | | | | | | | | |
| --- | --- | --- | --- | --- | --- | --- | --- | --- | --- |
|   | 18" | 20" | 22" | 24" | 26" | 28" | 30" | 32" | 34" |
| Front Length | 27 cm | 27 cm | 27 cm | 27 cm | 27 cm | 27 cm | 27 cm | 27 cm | 27 cm |
| Under the bust | 70 cm | 75 cm | 80 cm | 85 cm | 90 cm | 95 cm | 100 cm | 105 cm | 110 cm |
| Waist | 46 cm | 51 cm | 56 cm | 61 cm | 66 cm | 71 cm | 76 cm | 81 cm | 86 cm |
| Hips | 82 cm | 87 cm | 92 cm | 97 cm | 102 cm | 107 cm | 112 cm | 117 cm | 122 cm |
| Size | A | B | C | D | E | Under the bust | Waist | Hips |
| --- | --- | --- | --- | --- | --- | --- | --- | --- |
| 18'' | 27 | 12 | 13 | 5 | 12 | 70 | 46 | 82 |
| 20'' | 27 | 12 | 13 | 5 | 12 | 75 | 51 | 87 |
| 22'' | 27 | 12 | 13 | 5 | 12 | 80 | 56 | 92 |
| 24'' | 27 | 12 | 13 | 5 | 12 | 85 | 61 | 97 |
| 26'' | 27 | 12 | 13 | 5 | 12 | 90 | 66 | 102 |
| 28'' | 27 | 12 | 13 | 5 | 12 | 95 | 71 | 107 |
| 30'' | 27 | 12 | 13 | 5 | 12 | 100 | 76 | 112 |
| 32'' | 27 | 12 | 13 | 5 | 12 | 105 | 81 | 117 |
| 34'' | 27 | 12 | 13 | 5 | 12 | 110 | 86 | 122 |
Users reviews
(23)
Average rating: 4.74
Rate:

Or set is anatomically correct, fits like a glove, and is real pretty! The back does slant a bit though if you're not careful when seasoning it or closing it.
Rate: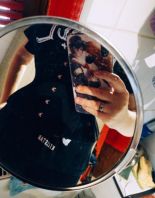 Rate:

It's gorgeous, sturdy and quite comfortable. Just the design tends to be always a bit too large on hips, but beautiful !!!
Rate:

Rate:

Great, sturdy and comfortable. I bough it according to the size chard and it feels like it was made to measure. It's my fist corset and I love it. It doesn't constrict my ribcage nor limit my movements. I love the dramatic figure and it looks great with anything. I hope the corset section gets restocked because now I want one of each!
Rate:

When I saw my size in stock I knew I had to get it. I bought a 24 since its been a bit, I normally do 22, but I love how sturdy it feels, as a corset should! This was my first restyle corset so I didnt know what to expect, and honestly I love it. As with the other things I buy from here! Ive been off and on corset training and once seasoned it will fit more than perfect! (I had pics but it says the pic size didnt fit :/)
Rate: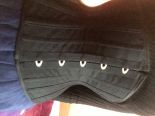 It's a great sturdy corset I can definitely recommend for waist training :)
Rate:

I'm 38.5" - 31 .5" - 43" (98 - 80 - 109 cm) with an 8.5" torso length (21.5 cm seated underbust-to-thigh measurement) and a 15" (38 cm) back waist length and I got a size 24 which is great, though the ~3-4" gap has a bit of a 'V' shape in the back. In the corset in a 'tight hug' I measure 30" (76 cm) around the outside waist, and 28" (71 cm) done up a bit uncomfortably. The corseted 30" looks very dramatically different from my uncorseted 31.5", just because of the shape of the garment. Very highly recommended if you're a similar size and 'medium'squishy' like me! My other uncorseted measurements: underbust 35", high hip 40": my main fit concern was my lovehandled shape, how my waist is 31.5" and goes to 43" in just an inch or two, but that wasn't a problem at all - I really really like how I look in this, and it's really comfortable right from the start. CONS: - the worst part of the fit for me is that there's a bit of overflow at the top if I lean back at all or move in certain ways. I kind of doubt this could be fixed without losing weight or maybe changing the corset shape. I bought this for historical costuming, and I'm assuming a corset cover might help smooth the lines a bit more. It's really not too bad, and I'm kind of a perfectionist with appearances! - I'd wish got satin instead of cotton: like many people I was thinking of 'breathability' but the corset is so thick that I don't think it would make a difference, and now I see that smooth satin is better for wearing under clothes. I think the satin is also less thick. - I really wish it came in white or at least a lighter color! Maybe the company could make one in light grey or something, and still preserve its 'goth' vibe? - would love an overbust version, but that's dreaming :)
Rate:

Corset arrived promptly. Was exactly as described, fits great. I ordered a size 20, I have a natural waist of 28 but I went with this as other people had choosen a closer size and found it too big. I haven't closed it yet but when I do I'll definitely be ordering the 18 inch!
Rate:

I bought this corset in size 20''. I was a little afraid it might hurt me because I suffer from scoliosis and my ribcage and waist are slightly uneven. But I was really impressed when I found that not only the corsets fits perfectly and doesn't hurt me at all, but that it makes my waist even! The fabric is sturdy and comfortable. My measures are Under the bust 75 cm , Waist 66 cm, Hips 85 cm. It doesn't fit perfectly around my hips (It's about 1 cm wider) but it's not noticeable unless you are wearing a really skin-tight dress. I'm totally going to buy from this site again!
Rate:

This is my first corset, so I was a little wary, but I love it! It's amazingly sturdy and the quality is great. I can see this lasting for quite some time. I'm still in the process of seasoning it, but it's already very comfortable. I got it in a 24" and was pleasantly surprised to see the underbust was a little more contoured than in the website photo. Only downside is that it's a little big for my rib measurement, but is easy to hide under sweaters.
Rate:

I absolutely adore the quality of the corset. Because this was my first, I hesitated a little with the size. I have a waist of 70 cm and ordered the corset size 24. I did not want to have an extreme waist reduction, so that's why I only distracted 10 cm from my waist. (Which should be enough according to the size chart) Unfortunately the corset is WAY to big for me. The upper and lower part looks absolutely ridiculous on me because it doesn't even come near my skin. I can close the corset without any difficulty. I am really really disappointed with this.. I should at least try two sizes smaller (size 20) So my advice to you lovely ladies: when in doubt, try a size smaller. I also have the bad luck that returning it makes the shipping costs enormously expensive. So I'm not yet sure what I'll do.
Rate:

Very quick delivery ! This is my first corset, and I had imagined it to be at least a bit uncomfortable, but the opposite is true. I find it a very comfortable corset, very sturdy and easy to lace up. I love the silhouette it gives me. I absolutely will order here again !!!
Rate: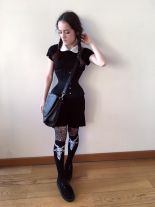 I bought this corset in size 18, my natural waist is 23 inches. It fits almost perfectly except for the hips because mine are narrow and this corset is really curvy. It's comfortable, and exactly what I was looking for.
Rate:

I bought this corset and the wide hips both in black cotton and this has quickly become my favourite corset! Much curvier and suited to my shape than orchard corset's cs-426. Might get satin or mesh next time as the black cotton attracts a lot of lint but this corset in cotton is still one of the best in my opinion for waist training.
Rate: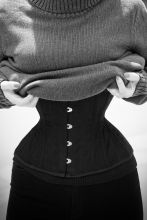 A wonderful corset with a perfect shape. Only after a week my model was able to close it entirely at 20". But to close it that soon, you have to wear it every day. Next will be the same one with 18".
Rate:

Shipment from Poland was very quick, as always things get complicated when packages reach our "dear" Italian postal system, so it took more than 2 weeks to have my corset. Anyway, the corset is made out from strong cotton fabric which wraps you very well. I chose a size which is almost 10 cm smaller than my waist size (and about 5 cm smaller than my under the bust/hips size), but unfortunately it's quite impossible for me to fill it under the bust and on the hips. When I tried it on I was able to close the entire corset - that means the sticks on the back were touching, but still on the bottom and on the top the corset flipped out. I could put my entire hand in it, although the waist was wrapped really tight. Probably it's my body shape's fault, so it's okay anyway, I really wanted to try this kind of corset and it came as I expected. I will be able to modify it myself to fit me better. So thank you Restyle, I will definitively buy from you again :)
Rate:

I have somewhat mixed feelings about this corset. -It is definitelly sturdy yet seasoned very nicely and quickly and feels verty comfortable as it bent out to all my bumps quite quickly and is generally pleasant to wear. -lovely shape, however you definitelly do have to have quite a dramatic curve between your waist and hips to actually be able to fill the hips. I've a waist of approx. 25" and quite a curve to the hips, but a 20" closed still leaves a little bit of air at my ribs when I'm standing up so it's not that good to wear under clothing. -modesty panel is very easy to take off if you don't like them. -of course, you can't beat the price and the fact that it's readily available in Europe. but there are two main cons: -the flat steel bones sandwiching the grommets twist in their channels. Especially the ones on the opposide side of the lacing - they don't lay flat agains my body and now after a few weeks of every day wearing I can clearly see that in the very middle of the bone channels there are clear marks where fabric is chafing on the edge of the bones. I'm afariad that a month or two more may make those marks into tears. -as soon as I fully closed the corset I noticed that the fabric is coming out from under the grommets on a large number of them which tells me that the grommets were not pressed strongly enough to hold onto the fabric. I had to press them myself and that let me see that the grommets are made from very soft and moldable metal which is nothing good. Overall, I'd say this is a great corset for soft taking in of the waist or as a fashion corset, but definitelly not strong enough to handle extreme tight lacing or waist training because you have to be kind with this corset and that's not necessarily how waist-training works. However, it has the potential if the grommet and the flat-bone-channel problems are fixed. (oh, for those interested - I though that the shipping from Poland to Lithuania(adjacent countries)took a bit longer than expected yet nothing too long: Ordered on 9.29, Shipped on 10.03, Was at local post office on 10.10)
Rate: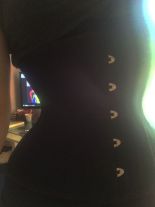 I love this corset. Is not my first Restyle corset but I must say, I find them very comfortable and aestethically perfect. My goal is 20 or 18 inches (not sure yet). I just finished seasoning this corset and it is like a second skin. I am now at 22 inches almost entirely closed. I am very happy to do my jurney with Restyle. I will definitely buy other products
Rate:

Excellent quality, very firm and perfect for waist training. The only thing is that it's a bit to wide in the hips, so if you have narrow hips as I do, be aware of that ;)
Rate: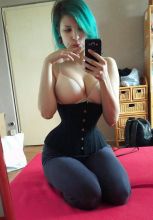 Rate:

Nice shape but not easy to tight up, because of the material (cotton): next time I will chose satin. The cotton "sticks" on the garment down, when trying to tight the corset.