Full Moon Necklace
Necklace presents moon phases carved in alloy. In the center there is a graphic of a moon underneath the magnifying glass.
Crescents are conected with geometry figures. 
 Moon Jewellery in matte black colour.
Project Euflonica
Measurements:
size of moon cabochon 3 cm
high of main  element 11 cm
lenght of chains 50-60
Every piece of Restyle jewellery is compatible with EU law and it's safe for your skin.
Users reviews
(12)
Average rating: 5.00
Rate:

This is a must have! Perfect!
Rate: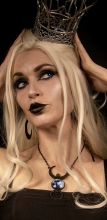 Love this necklace ! Not too heavy, it is perfect !
Rate:

Rate: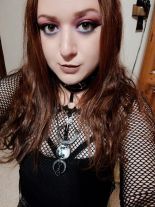 Beautiful necklace! I love it! I ordered it before and I lost it whilst out, but I just had to re-purchase as I felt it a staple in my wardrobe. Beautiful and great quality!
Rate:

I love this Lunar collection! I love this necklace. It is so sober, gorgeous, I get so many compliments to it. This jewelry pieces from Restyle are my favorite ever!
Rate:

This one is very beautiful but unfortunately is very delicate and it breaks easily. Mine arrived broken and Restyle team helped me right away but I could notice the material is thin and given its weight it's very likely to break easily. Go for it bearing in mind you'll have to be veeery careful. You'll like the design for sure. (Giving 5 stars because I got very good care by Restyle customer service to solve the issue ❤)
Rate:

Gorgeous design I lived it. Until it broke in half after wearing it twice
Rate:

The design is gorgeous and the materials are amazing. It's really sturdy and looks like antique metal. I just love it!
Rate:

I really love this necklace. The design is beautiful and it's great quality. Absolutely worth €12 (even more!)... On the mannequin picture I think it looks a lot bigger than it really is, but that's not a bad thing.
Rate:

This is such an awesome necklace! I love the design and how the material its made of is like old iron used in cemetery gates ;) The chain is pretty sturdy, too.
Rate:

This necklace is just amazing!
Rate:

Bought this necklace for a friend and it's lovely! She loves it! Might order one for myself when back in stock :3