"Witch Crow Black" ring
Ring presents 3D crow skull  placed on the ring with crescents with moon phases openwork and WITCH inscription.
The same symbols are placed on both sides of the ring.
Jewellery is in deep, matte black color.
Project Euflonica
Size:
Three sizes available: 16mm,  17mm and 18mm (inner circumference of the ring)
High of main element: 3 cm
Every piece of Restyle jewellery is compatible with EU law and it's safe for your skin.
Users reviews
(5)
Average rating: 5.00
Rate:

awesome quality and fast shiping
Rate:

Amazing! It has a lot of details that you can't see properly in the pictures! Perfect! I always go for 18 mm, as the others may be too small, especially in summer. Again, just amazing!
Rate:

Love love love it..very good. Heavy metal...
Rate:

Beautiful! The ring is of a weighty metal of wonderful quality and the matte black finish gives a very smooth feeling to it. What pleased me the most about it is that neither did I have any allergic reaction to it nor did it deposit any sort of pigment or metallic residue on my skin like so many cheap rings do. The sculpt of the ring is amazingly detailed, from the anatomical details of the crow skull to the moon shape filigree framing it. It doesn't have visible seams either, nor does it have any sharp edges or points that could hurt you or someone else. I can say I'm very satisfied!
Rate: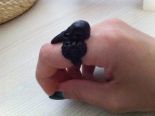 Effet sorcier et chaman assuré! Cette bague est très sophistiquée, je la trouve vraiment superbe!