"Ram Skull Black" ring
Ring presents 3D ram skull with arsenic symbol. The same symbols are placed on both sides of the ring.
Jewellery is in deep, matte black color.
Project Euflonica
Size:
Three sizes available: 16mm,  17mm and 18mm (inner circumference of the ring)
High of main element: 3 cm
Every piece of Restyle jewellery is compatible with EU law and it's safe for your skin.
Users reviews
(6)
Average rating: 4.67
Rate:

Took size 18, it's a bit tight but the design is fantastic!
Rate:

Super fast delivery, the ring is amazing, even better in real life than in pictures. It's quite heavy, but that doesn't bother me. Thank you, Restyle.
Rate:

Delivey took forever due to the postal service in my country. The ring is amazing, full of details and lightweight. A must have. Recommended 100%
Rate: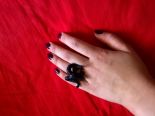 This ring is everything! It's so lightweight that I almost don't even feel it. Ok is a big but damn is so cool!
Rate:

Very pretty and sturdy, but sadly the black started fading off right away, so after 3 days of wearing it, it had more silver than black. Not something that would make me not wear it, but still sad.
Rate: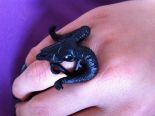 J'adore cette bague, c'est une de mes favorite! Par contre attention! Je ne sais pas si c'est à cause des détails très fournis sur le bord de la bague, mais du coup elle taille plus petit! J'ai les doigts très fins, je l'ai prise en taille 17, et pourtant je ne peux que la mettre à l'annulaire (j'avais aussi pris la bague Raven Skull en même taille, et pourtant celle-ci je peux la mettre à l'index). :(