"Ram Skull Black" Necklace
Necklace presents 3D ram skull with arsenic symbol engraved. Skull is placed on the reversed pentagram symbol.
Jewellery is in matte black color with grunge texture.
This occult necklace will look marvelous with black fashion clothes.
Project Euflonica
Measurements:
high of main element 4,5 cm
total chain lenght 40-50 cm



Every jewellry in our offer is compatible with EU law
Sample of every model has been tested in laboratory.
The test result is available 
HERE
Users reviews
(6)
Average rating: 5.00
Rate:

Wow, makes a statement! Nice quality for the price!
Rate:

I just got my necklace today and I'm more than satisfied. It's so beautiful! The size is perfect and the quality seems to be top notch. I highly recommend buying this product.
Rate:

I love this one, you satanic witches around will also love it! It has the perfect length and is so bold mate black! I love the quality even though the black color has faded from the clasp on the back. Just avoid applying perfume on top or scratch it when overlaying it with other garments. One of my favorites.
Rate:

This is awesome. Love it.
Rate:

A lovely item, pretty and sturdy, really like it.
Rate: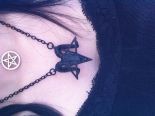 Tout comme la bague, ce collier fait partie de mes bijoux préférés! Il est beau, bien détaillé, et se marie parfaitement avec d'autres colliers. j'aime!