Symbol Skirt

Made of very thick and solid black cotton cloth.
There is a wide strap at the waist, with elastic on the back for better fit.
Skirt has big pleats, they look marvelous because of the stiff fabric.
Bottom of the skirt is adorned with beautiful and unique print of alchemical symbols.
Skirt fastened on the side with hidden zipper and two buttons.

Project: Euflonica   
All the measurements in size chart are without stretching the elastic on the back.
After maximum stretch it would have + 4 cm more.
| | | | | | | | |
| --- | --- | --- | --- | --- | --- | --- | --- |
|   | XS | S | M | L | XL | XXL | XXXL |
| Waist | 64 cm | 70 cm | 76 cm | 82 cm | 88 cm | 92 cm | 96 cm |
| Length (center back) | 44 cm | 45 cm | 46 cm | 47 cm | 48 cm | 49 cm | 50 cm |
| Size | Waist | Length |
| --- | --- | --- |
| XS | 64 | 44 |
| S | 70 | 45 |
| M | 76 | 46 |
| L | 82 | 47 |
| XL | 88 | 48 |
| XXL | 92 | 49 |
| XXXL | 96 | 50 |
Users reviews
(11)
Average rating: 4.91
Rate:

I have a 68cm waist and ordered small, it fits very nicely. The fabric is thick, very black, the pattern is beautiful and, in general, very high quality. I was worried it was a little expensive for the standard prices of my country, but it was totally worth it. Right after open it the smell is like vinager, which isn't a complaint because I totally prefer an organic smell like that than the plastic factory one from Chinese products. The delivery was fast and I'm very happy in general, totally buying again soon
Rate:

Very nice garment, good for casual-gothy outfits. Just it is too tight around the waist...please make the sizes a bit larger ;)
Rate:

The previous reviews helped me a lot with this one. I have an 65cm waist, normally and because of the stretch I would have chosen an XS but I eventually ordered an S. The sizing charts on restyle are normally very accurate, but the skirt fits perfectly in S, so I recommend that, if you are not sure which size you should take, get the larger one. I'm really happy I did, because the skirt looks awesome, I really like it :)
Rate:

Cool skirt. Not as thick as I was expecting after the reviews. Ordered a size too big but that's ok still looks good.
Rate:

I have 80 cm waist and I chose size XL. It fits me well and I shouldn't take smaller size. The Print and quality is great. Delivery to Russia took 3 weeks.
Rate:

This skirt is one of my favorites because of its length, thickness and details. It looks really elegant with whatever you put on top. And I love how comfortable it is. It runs a bit big in comparison to other Restyle's skirts in my opinion but that is not an issue because it has its own weight and it adapts just fine. You can play with the elastic band on the waist if necessary, sewing it a bit or loosing it. I definitely love the quality and design of this one. You have to be careful when sitting down/standing up as the pleats get folded and you won't want to show your bottom :-) As mentioned in a previous review from Michelle, Restyle's size charts are the only ''but''. They rarely match the real measurement of the items and it's tricky to choose your size, as they do not follow the same pattern. Returning items it's an inconvenient so always consider the stretch of the fabric and the possibility to adjust the item if necessary.
Rate: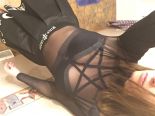 I am 28 inch waist 41 in hips. 4'7 and 137 lbs. I got this in a large due to the other woman's review. I am glad I did. Even though it's stretchy it is firm. It is a beautiful skirt. I am not sure about the fabric it kind of reminds me of thick curtains. But it keeps its shape.
Rate:

Beautiful cut skirt. I like the shape and the pattern. Very good quality!
Rate:

This skirt is so so cute and the sizing is spot on. It is long enough to cover everything and makes your waist look very tiny. However you have to fix the pleats when you stand up from sitting down. But all in all a great product.
Rate:

I have 74cm around my waist and a hourglass figure, so I first chose size M. It fit very tight around my waist and because of my wide hips the pleats didn't look nice. Then I ordered size L, which fits perfect. The difference between size M and L isn't as big as I thought. Because of the size chart I was concerned that the L could be too big but it isn't. It would be nice if the size charts could be more detailed, because sending back the first order was really expensive and with more details about the fitting that wouldn't have happend. But all in all I love the skirt! :)

Update Required
To play the media you will need to either update your browser to a recent version or update your
Flash plugin
.