Oriental Bat Necklace

Oriental necklace made of three oriental parts, gothic bat, crescents and tessels.
This statement necklace will make any outfit instantly more sophisticated.
Necklace is adjustable. One size fits all.

Project Euflonica  


Restyle's unique jewellery design with the branding





Measurements:


high 9 cm
width 15 cm
chain lenght 30 cm

Every piece of Restyle jewellery is compatible with EU law and it's safe for your skin.

Users reviews
(5)
Average rating: 4.80
Rate:

Great also in black. This time all rings were perfect!!
Rate:

Large, decent size. I wish the back chain was a little bit longer, only other problem I had was that the smaller chains all popped out of one of the housing cases.
Rate: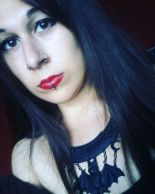 Rate:

Perfect. Bat lovers must have it!
Rate: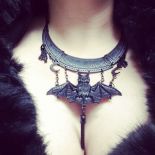 I loved this necklace immediately. It's unique and well made. I fell asleep in it the first time I wore it because I didn't want to take it off. I recommend it, it sits perfectly and can go with many outfits.