"Helm of Awe Raven Barrette



This beautiful hairclip presents black crow with healing rune engraved. In it's claws it holds aegishjalmur helm of awe.


Project Euflonica



Measurements:




width: 12 cm


Every piece of Restyle jewellery is compatible with EU law and it's safe for your skin.

Users reviews
(8)
Average rating: 4.88
Rate: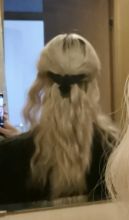 Wonderful mysterious and protective thing
Rate:

Wonderful, just a bit heavy!
Rate:

Rate:

Love this hairclip!My totem animal in my hair. Nice raven and nordic rune. Very nice product
Rate:

I love it so much. I dropped it once and the round part broke off but i managed to repair it. It looks absolutely great !
Rate: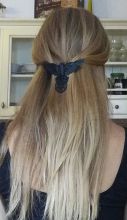 It looks exactly like the picture, my favourite hairclip so far, it stands up on my blonde hair. Perfect.
Rate:

It looks great and I love it!
Rate:

I love it. I will need to get used to wearing something like this yet I can make that happen.