Nugoth Hoodie



Made of very thick, knitted cotton, very warm and super soft inside.  Perfect for chilly evenings.
Entire sleeves are covered with huge alchemical symbols print.

Oversized hood has WITCHCRAFT print on it's edge. There is also a Luna print on the righ side of the blouse.
It has hollow pockets, big hood and pullers on the cuffs and the bottom.

Perfect blouse for everyday use to feel a witchy vibes.
| | | | | | | |
| --- | --- | --- | --- | --- | --- | --- |
|   | XS | S | M | L | XL | XXL |
| Bust | 96 cm | 100 cm | 104 cm | 108 cm | 112 cm | 116 cm |
| Waist | 72 cm | 76 cm | 80 cm | 84 cm | 88 cm | 92 cm |
| Length | 70 cm | 70 cm | 70 cm | 70 cm | 70 cm | 70 cm |
| On the bottom | 88 cm | 92 cm | 96 cm | 100 cm | 104 cm | 108 cm |
| Sleeve length | 64 cm | 64 cm | 64 cm | 64 cm | 65 cm | 65 cm |
| Size | Bust | Waist | Length | On the bottom | Sleeve length |
| --- | --- | --- | --- | --- | --- |
| XS | 96 | 72 | 70 | 88 | 65 |
| S | 100 | 76 | 70 | 92 | 65 |
| M | 104 | 80 | 70 | 96 | 65 |
| L | 108 | 84 | 70 | 100 | 65 |
| XL | 112 | 88 | 70 | 104 | 65 |
| XXL | 116 | 92 | 70 | 108 | 65 |
Users reviews
(31)
Average rating: 4.87
Rate:

So nice! Worth the price!!!
Rate:

Really nice hoodie that came in quick. No issues and slowly becoming one of my favorites. Love the oversized hood.
Rate:

Rate:

love this hoodie and have been waiting for ages for it to come back into stock. Brilliant quality, fits very well and I couldn't be happier
Rate:

Eine wahnsinnig tolle Jacke! Ausgezeichnetes und angenehmes Material und passt perfekt. Die Lieferung erfolgte schnell und unkompliziert. Hier bestelle ich gerne wieder.
Rate:

I love it. A few month ago I already ordered another hoodie in size S because I normally wear S. It was quite really great, warm and comfortable. This time, I chose XS and it fits perfect. I´m very tall, but still the sleeves are not too short. I just hope the zipper survives a little longer than that of the other hoodie (I had to exchange it after some months - what was quite expensive).
Rate:

Rate:

Amazing hoodie..good quality and I am so in love.. thamx restyle to make aways the best clothes
Rate:

Disappointed with hood. It's sewn straight down centre and design is uneven. This is the feature so its very off putting. Bought as gift and no time to find anything else do now paying a local seamstress to fix this. Have tried attaching picture interview won't print with picture. Very expensive for such an obvious mistake.
Rate:

I guess I will wear this very often , so soft so cosy such a wonderful design! I already love it! Only contra could be the bad sewing at the top of the hood, but was easily done by two stiches!
Rate:

This hoodie is awesome and gorgeous! It is thick and warm, the hood is huge just like I like and the material is so so nice!! I chose a size L and it fits perfectly!! I'm in love with it!
Rate:

Great quality, very thick and warm. Big cozy hood! Highly recommend. Size table true to size.
Rate:

Everything is perfect as usual. I already bought it 3 sizes bigger somewhere else because I wanted it so bad and it ha to be NOW! xD that was a year ago and now i ordered it in my size (s) and it fits perfectly! Also i washed the hoodie multiple times and put it in the tumble dryer: nothin happened to the print and it doesn't shrink. It's just cozy and perfect and it's beside the pierced hood my favorite one!
Rate:

I'm usually an XS in everything I wear, but after reading all of the reviews, I nervously selected the small. I received it for my birthday and it's a great fit! Not too snug, but just enough give to be comfortable. I can't wait to wear it out; it's very warm and thick. Love love love!
Rate:

I love this item, I have a lot of hair. The giant hood fits over my head/hair and stays in place, that's very rare!
Rate:

First order from Restyle and I'm absolutely satisfied. Ordered an S size, turned out to be perfect, flattering but comfy,perfect lenght of sleeves too, going over the wrist. Fabric is warm and soft, print design looks amazing. I live in London, and the hoodie is perfect for those evening winds and unpredictable light-to-average rains. Hands down best hoodie I own.
Rate:

Love this Hoodie! The fabric is thick and soft. Such a cozy piece. Ordered size M and it's fitting perfectly. And the length is great. Perfect for the cold season! The shipping to Germany was really quick.
Rate:

This hoodie is absolutely amazing! It has a heavier fabric so it is very warm and it feels expensive. The hood is MASSIVE and the fit is incredible. I cannot wait to buy more clothing from Restyle!
Rate:

The hoodie is perfect! Very warm and cozy. Ordered size S and it fits perfectly. Also, very fast shipping, got it in three days. Thanks!
Rate:

This sweater is so 'bae' that I ordered it twice. I waited a little under 3 months for it to reach Canada from Poland but it was worth it. So comfy, and I feel like an inuit woman with her baby when I carry my chihuahua in the hood. Love that huge hood. Very high quality fabric, and sick prints.
Rate:

In love with this hoodie! Very cozy and comfy, ordered size S and it fitted perfectly. Love the soft fabric and designs. Keep up the good work!
Rate:

Very comfy and cosy hoodie. It is very warm and the size table above gives you a great overview on which size to order. I normally wear a size M but based on the size table I ordered a size S since I wanted a more body-shaped fit and it fits perfectly.
Rate:

I ordered size M because people were saying the sizes are small. Well I think S would have been better but M is not too big either. The fabric is really soft and warm. I totally love it! And I also love the big hood. It is simple hoodie with some nice details.
Rate:

Toller Hoodie, richtig kuschelig und hochwertig. Fällt ganz normal aus. I love it
Rate:

I'm always a bit nervous when I order items online, but this was absolutely a win. I'm usually a medium in most stores, and that's what I ordered, and it fits beautifully, with a little bit of room (which I like in a cozy hoodie). The fabric is amazingly soft and I wear it constantly since I got it.
Rate:

My favorite hoodie. S size fits perfectly to me and quality was better than i expected. Material is thick and soft. 5/5
Rate:

Pull magnifique, il fait son effet
Rate: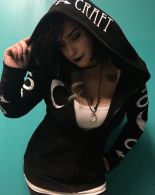 My new favorite hoodie! Well made, thick and cozy. The hood is huge and I get compliments every time I wear it. I usually wear a S but went for the MD and it fits perfectly.
Rate: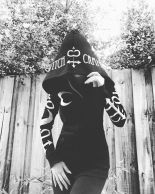 I absolutely adore this design and style. I tossed between size XS for fit and S for comfort and I ordered S which is perfect! The fabric is thick,soft and warm. This is an incredible unique hoodie and the print is so witchy!
Rate:

i absolutely adore this item! I chose an XL and it fits perfectly, the hoodie is really warm and perfect for this winter season. It was my first order from Restyle and not the last one. Thanks

Update Required
To play the media you will need to either update your browser to a recent version or update your
Flash plugin
.