Layered Jacket

Long, black hoodie made of very thick, knitted cotton.
Slim at waist and spread at the bottom.

Fastened with a metal zipper with moon at the end. 
Hoodie has huge, oversized hood sewed from many seperate patterns.
Each seam was accented with faux leather trimming. Same trimmings were used for front, back and cuffs seams.
Front has two big hand-pockets. 

| | | | | | | |
| --- | --- | --- | --- | --- | --- | --- |
|   | XS | S | M | L | XL | XXL |
| Bust | 88 cm | 93 cm | 98 cm | 103 cm | 108 cm | 113 cm |
| Waist | 69 cm | 74 cm | 79 cm | 84 cm | 89 cm | 94 cm |
| Hips | 90 cm | 95 cm | 100 cm | 105 cm | 110 cm | 115 cm |
| Length | 88 cm | 88 cm | 88 cm | 90 cm | 90 cm | 90 cm |
| Sleeve length | 69 cm | 69 cm | 69 cm | 69 cm | 70 cm | 70 cm |
| Size | Bust | Waist | Hips | Length | Sleeve length |
| --- | --- | --- | --- | --- | --- |
| XS | 88 | 69 | 90 | 88 | 69 |
| S | 93 | 74 | 95 | 88 | 69 |
| M | 98 | 79 | 100 | 88 | 69 |
| L | 103 | 84 | 105 | 90 | 69 |
| XL | 108 | 89 | 110 | 90 | 70 |
| XXL | 113 | 94 | 115 | 90 | 70 |
Users reviews
(28)
Average rating: 4.79
Rate:

Very beautiful and comfortable!!
Rate: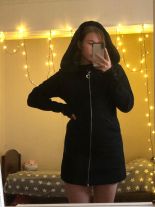 Beautiful hoodie. The fit is perfect and the material is thick.
Rate:

This fits perfectly, is inexpensive and stylish
Rate:

My favorite hoodie of all time.Restyle never disappoints!I love every item I buy from here.The hoodie hugs my body perfectly
Rate:

Im sooo into this sweater. I got the XXL and it fits perfectly, my measurements are bust: 40in, waist 33in and hips: 44in. The XXL has just enough extra roominess in it so it doesnt feel restricting but its still fitted and its really nice and thick material. Only downside is that my big hips cancel out the flair at the hem, it just kind of goes straight down haha. The crescent moon zipper and rib detailing is sick, and of the 3 purchases ive made from Restyle so far, i can def. Say that their sizing charts are almost bang on so if you order accordingly, youll fit what you buy :) another high quality, gorgeous piece for me
Rate:

I love this jacket. Really good quality. I'm 1.73 m with 60 kg and M fits perfect! Fabric feels really nice and the hood is great.
Rate: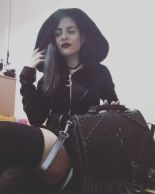 Best hoodie ever! It's so warm and stylish. I'm also wearing it as a dress with fishnet leggings and my favourite booties Fits absolutely nice with my Boho witchy hand bag. Sizes are true according to chart!
Rate:

It's a very cute hoodie but it is too small for me! I'm 4'11 and around 95 lbs and got an xs. Pretty much nothing is ever too small for me lol, so I was disappointed about that. Shipping is way too expensive to exchange it so I'm going to try to make it work. My other concern is the zipper gets caught easily and feels like it might break. I really do love it and think it's adorable and warm though
Rate:

Received to sizes larger than ordered. Otherwise it would be a really nice and cozy jacket.
Rate:

Beautiful zipper hoodie, good quality. My usual size was too small for me here, so when in doubt order larger maybe.
Rate:

It's pretty- a little bulkier than I thought it would be and pockets are angled more to the top front than sides but it's nice and warm.
Rate:

I love this hoodie, I have worn it with every kind of outfit as well. They are so versatile! Its length of a dress it's cute and goes well with skirts and dresses. Go a size up if you are ''busty''. It's well made, thick, soft and very warm! I always wear the hood cause it is extremely big and rad! You are going to love the detail on the zipper.
Rate:

This hoodie was not what I expected but I still love it! I don't use it as a jacket (I live in Canada and would freeze, haha) but it makes for a perfect hoodie/sweater and I wear it under my Restyle Apocalypse coat and it fits perfectly! It would be a perfect tunic/hoodie to wear with leggings as an outfit!
Rate:

I looooooove this hoodie! I have ordered it one size up cause I wanted it to be a bit more comfy, but you can actually order your regular size. It's slightly too big now,but love it nevertheless and I can wear something thicker underneath.
Rate:

I have quickly received this coat and I love it! I choosed the size XS, it's slightly large for me but very pleasant to wear. No default, hight quality, comfortable and perfect for this winter! :)
Rate:

I absolutely love this jacket. The hood is so large and really gives off that mysterious witchy vibe. But despite its thin appearance it is very warm and very good with colder weather. Also the pockets are really big and thats just awesome. Not to mention the jacket was delivered 4 days earlier than expected. An all around great purchase! !!
Rate:

I really loved the hoodie, it is my favorite clothing item now! Feels warm and has good quality. I was worried at first if it wouldn't be good for wearing inside (in case if it looks too much like a velvety coat) but it does looks more like a cotton hoodie so no worry about that.
Rate:

I really loved this product in the picture and I had really high hopes for it but when it arrived, it looked gorgeous but a bit limp. The hood didn't have a clear texture as it does in the photo and just sort of flopped and it was a bit misshapen. For some reason I assumed it would have velvet trim but I'm not sure if that was just me? It is really thin material and couldn't be worn as a coat but would be perfect for a warmer spring day. The zipper was lovely and added a really nice touch to the garment and it was really beautiful overall, just not what I wanted. If you want a light casual jacket, this is for you.
Rate:

I got this Hoodie today. It is so cosy and soft. I love this one. And I am very sure that there will be very warm in the Winter. Its a perfect hoodie for the cold days. I am soooo in love with this beautiful one. Thank you.
Rate:

I bought this coat and can't stop wearing it whenever is cold outside. It has become my absolute favorite! Very comfortable and gives you a flattering shape while keeping you warm because it's really warm inside! Another of the best purchase's I've done. It's good quality, charming style, super cute moon charm in the zipper and true to size, fits perfectly and you can layer underneath comfortably! Oversize hoodie is the best, fits perfectly and gives you a lovely dark-look druid shape around your face.
Rate:

I LOVE this hoodie. So glad I ordered it. It is so thick and snuggly warm. Lovely design, the hood is massive and warm with full lining. The zip is good and strudy, the zip pull moon is a geat detail. I wear it every day!
Rate:

Super happy with the product. Fabric is soft, yet heavy, and the hood is amazing. I took a small, as I expect to use is as a spring coat, and It is perfect to wear with layered clothes under. The faux-leather accents are very cute. And the pockets are super deep, adding to the practicality of the garment.
Rate:

I just received my hoodie and am so in love with it. It fits great, is super warm and looks amazing. I couldn't be happier. Thank you.
Rate:

I wish it were still available I would buy more because I plan on wearing this for a while...... Super comfortable and fits great under a corseted coat.
Rate:

Rate:

Really great jacket, but unfortunately she does not fit me. Order one size larger! High quality
Rate:

Przepiekna bluza, solidnie wykonana i cieplutka, dziekuje :)
Rate:

I was given this as a gift from my sweet boyfriend and I absolutely love it :) I have long arms and its very hard for me to find sweaters and jackets with sleeves that will cover my wrists. The ends of the sleeves touch my knuckles! This hoodie is very thick and can be worn as a jacket. The material is super soft and cozy. The hoodie itself has been sewn very nicely. I was also given the Luna holster bag and I love that the zipper pull on this hoodie is the same as the zipper pulls on my holster bag! The length of the hoodie is perfect, almost like wearing a minidress :) The way it hugs and accentuates your figure is very elegant and flattering. I'd give it more than 5 stars if I could!

Update Required
To play the media you will need to either update your browser to a recent version or update your
Flash plugin
.